The beautiful Kumaon region is also known as 'Dev-Bhumi' or the Abode of Gods. This is the land of rich cultural heritage, age-old temples, majestic Himalayan peaks, picture postcard terraced fields and tempting fruit orchards.
To experience this stunningly beautiful region on foot is truly inspiring and rewarding. Itmenaan Himalayan Walks and Treks take you through the unspoilt villages of Kumaon and help you to experience it from close quarters. The programme allows you to walk around freely and interact with the local communities, exchange stories with the elderly people over a cup of 'chai' or help villagers working in the fields.
Charmingly, you also get to stay in restored traditional village houses which are stunningly located and have been touched up (and added on with attached bathrooms, etc) and converted into cozy cottages to provide very comfortable lodging without compromising on the authenticity.
As interests and capabilities vary, the walks are customised according to your needs. You may choose to stay-put at one location and explore the surrounding area. Alternatively, walks can also be organised that take you from one village to another and each night is spent in a different village location.
Itmenaan has done up 2 traditional Kumaoni village houses and carefully renovated them without compromising the architecture or the sensitivity of their surroundings. Each village house has 2 tastefully furnished bedrooms with excellent quality linen and mattresses, attached bathrooms, a small sitting-dining area and a fully equipped traditional kitchen. A cook and a service staff is on site at all times. Meals are prepared fresh using locally available ingredients.
Deep in the oak, rhododendron and pine forests with uninterrupted awe-inspiring views of the Himalayas, lies Thikalna. If you have dreamt of staying few days in perfect mountain solitude, miles away from civilization in a village setting, then this village house is just for you. A renovated village house without electricity (though not without cosy comfort), Thikalna offers a splendid retreat like no other to adventurous travellers.
Sitting at a height of 1850m above sea level, this village house is situated in a picturesque hamlet of Ganghet from where it gets its name. The house is surrounded by oak, pine and rhododendron trees with the views of the snow-capped Himalayan peaks. Spend you days reading a book, walking through and interacting with the local villagers over some chai and, of course, eat great food prepared in local style

Day 1 : Arrive Kathgodam – Drive to Itmenaan Estate
You will be met at Kathgodam Railway Station and driven (3.5 hours) to Itmenaan Estate.
Set in a peaceful rural setting in the Kumaon Himalayas, the 10-acre estate includes virgin pine, oak and rhododendron trees; terraced fields laden with seasonal fruits and vegetables; and to top it all, a small private perennial natural spring. The estate offers panoramic views of the Himalayas including the majestic Nanda Devi.
The 100-year-old traditional Kumaoni style stone house on the estate has been painstakingly restored and offers 3 tastefully designed en suite bedrooms. There is also the newly built Deodar Cottage. In and around the house are abundant places for you to unwind and relax – the courtyard overlooking the mountains and verdant valleys, the semi open-air dining area, numerous nooks and corners perfect for reading or for fulfilling your spiritual quest.
At Itmenaan Estate you may choose to just 'do nothing' – laze around or read a book, admire mesmerising valleys and snow clad peaks, enjoy the warmth of bonfire, gaze at the countless stars in night time. Those who are looking for some more walking within and around the estate you may trek to the highest point for enchanting views or roam the beautiful oak and rhododendron forests.
Walk Duration: 20 minutes
Accommodation: Itmenaan Estate
Meals: Lunch, Dinner 

Day 2: Itmenaan Estate – Almora - Thikalna Village
This morning after a leisurely breakfast, you will walk to the road head (20 minutes). On the road you will be met by our car and driven 1.5 hour to Almora.
En route to Almora, stop over briefly at the charming Chitai Temple, which is located just outside Almora town. The Chitai Temple is dedicated to Golu Devta, who is considered to be the God of Justice. As one approaches the temple, the first thing that strikes you is hundreds of bells hanging at the entrance. People come to the temple to make a wish to Golu Devta; those who are not able to personally visit the temple, write letters to Him seeking justice. Once a wish is fulfilled people come and hang a brass bell on any of the temple walls, and hence the sea of bells all over the temple.
After visiting Chitai temple continue to Almora town. This picturesque hill station is situated in the Kumaoun region of Uttarachal state. Situated at an altitude of 1650 metres, it is among the few hill stations of India, not created by the British. In fact, it is an ancient town, and some 400 years ago, it was the capital of the Chand Rajas of Kumaon. It has an interesting bazaar and good views of the mountains.
Walking duration: 1-2 hours 
Accommodation: Thikalna Village House
Meals: Breakfast, Lunch, Dinner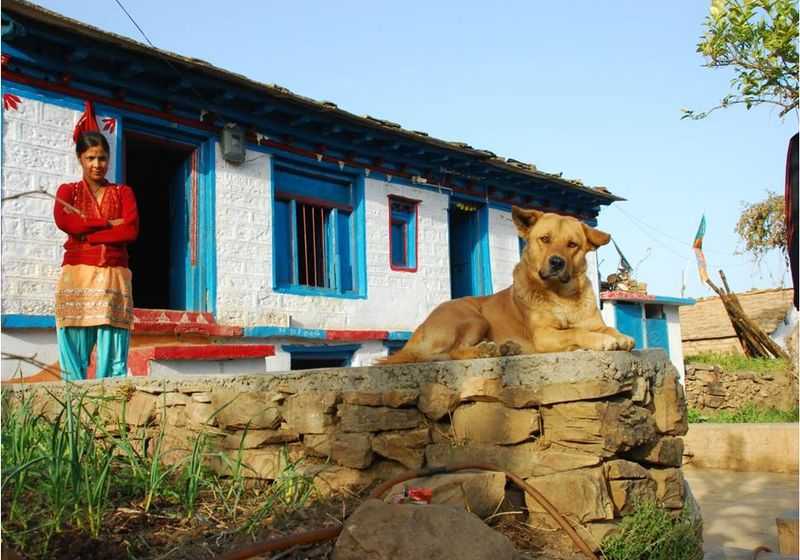 Day 3: Thikalna to Ganghet
After a leisurely breakfast, walk along the ridge towards Bridh Jageshwar temple complex (2229mts) with beautiful views of the Nanda Devi range on your left.  The next stretch of walk will take an hour where you walk through a mix of rhododendron and pine forests, occasional uphill and downhill stretches before you finally climb down to the ridge of Naini.
You continue walking to the Temple of Jageshwar (1780mts) for another one hour. Nearing Jageshwar in a valley you will notice the pine forest now change to thick Deodar (Cedar). The temples at Jageshwar are believed to have been constructed between the 8th century and the 18th century. The architecture belongs to the Nagara style of North India, characterized by a tall curved spire surmounted by an amalaka (capstone) and a kalasha crown.
After visiting the temple complex, you will be served a picnic lunch nearby. Then your uphill walk to the village of Gurdabaj will begin. The end of the walk will bring you to the village of Ganghet where you will spend your night. The evening may be spent at leisure by a bonfire.
Walk duration: 4-5 hours
Accommodation: Ganghet Village House
Meals: Breakfast, Lunch, Dinner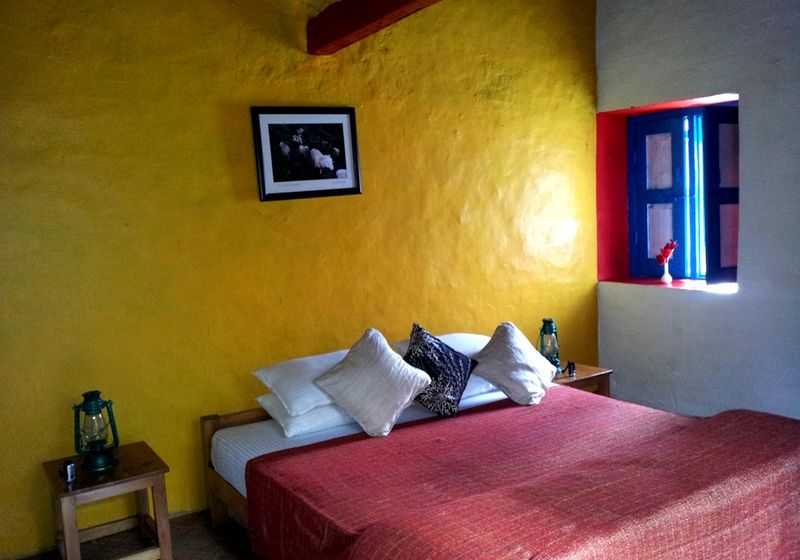 Day 4: Ganghet to Itmenaan Estate
After breakfast, you will walk downhill to the temple of Jhankarsem. The temple is one of the most famous temples of the region dedicated to deity Siam. Many families consider Siam to be their reigning deity and hence the popularity of the temple.
From the temple you will walk downhill towards the valley of Dudum. This two hour walk will take you through multiple villages in the area and will provide an excellent opportunity to interact with the locals. The scenery along the walk consists of terraced fields, old Kumaoni houses and small village temples.
You will be served a picnic lunch when you reach the bottom of the valley. From here a two hour uphill trek will bring you to Itmenaan Estate.
Walking duration: 1-2 hours 
Accommodation: Thikalna Village House
Meals: Breakfast, Lunch, Dinner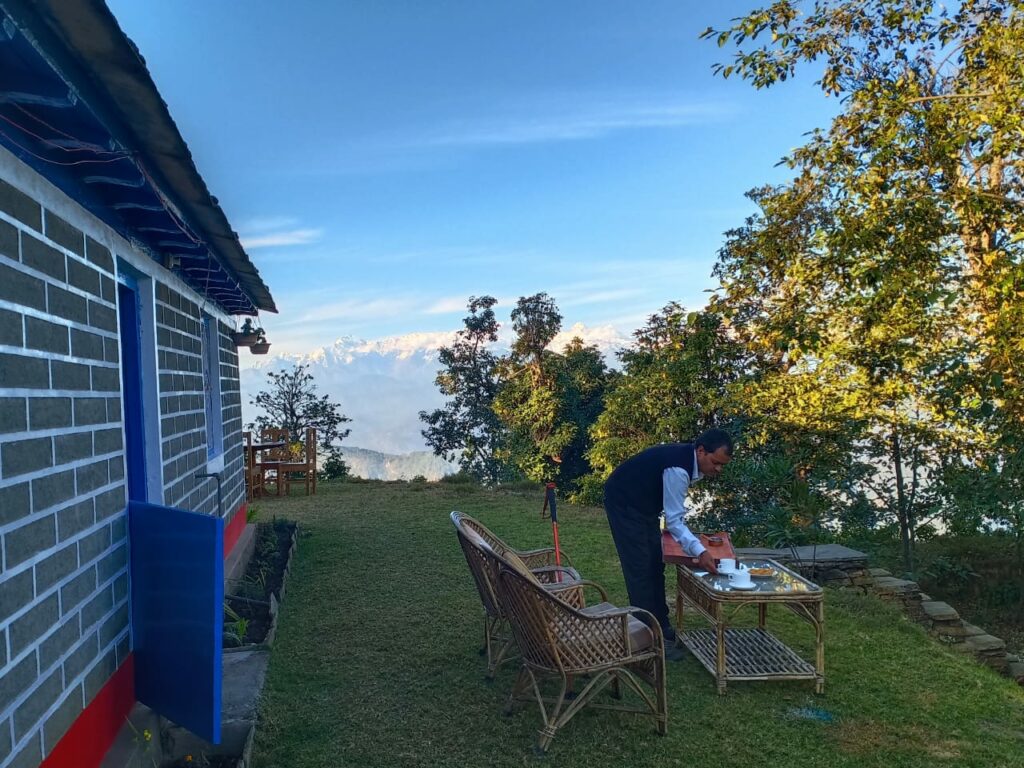 Day 5: Itmenaan Estate – Kathgodam
After a leisurely breakfast you will be taken to Kathgodam Rail Station for train to Delhi.
Walking duration: 20 minutes
Meals: Breakfast