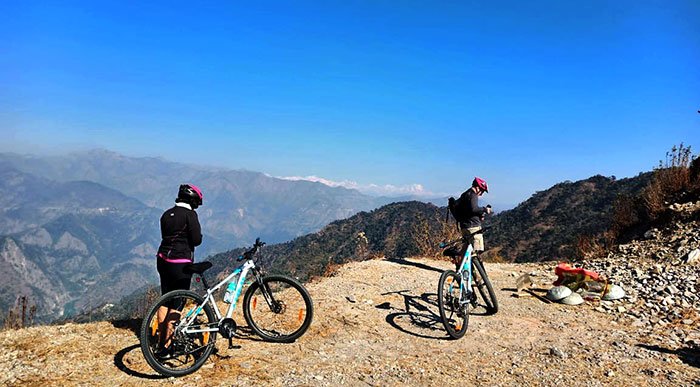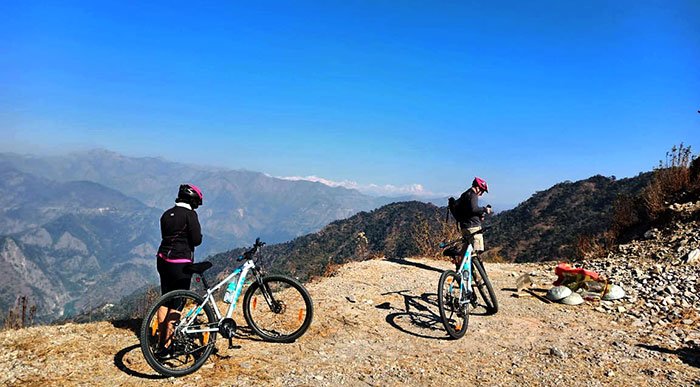 Kumaon region, located in the Himalayas, is often referred to as the Land of Gods (Dev Bhumi) due to the many important pilgrimage centres found throughout the state. Magnificent views of the Himalayan peaks, amazing setting of the small villages dotted on the hillsides and charming local cultures – provide the perfect blend for a memorable Himalayan bike tour.
Right from the coquettish charms of the sparkling Rhododendrons to the somberness of stately Deodars, the beauty of Kumaon is best explored on the quaint rural roads atop a bicycle. We don't only show you the spectacular panorama of this land but also introduce you to it, so as to instill in you the age old conviction that great things are born when people and mountain meet. The highlights of this bike tour in Uttrakhand are magnificent views of Himalayan peaks, cycling through quaint villages, valleys and forests and close interaction with friendly village folks.
The Itinerary
BHIMTAL (1 NIGHT), CHALNI CHINNA (2 NIGHT), THIKALNA (1 NIGHT), GANGHET(1NIGHT)

Day 1: Delhi – Kathgodam – Bhimtal
On arrival in Kathgodam you will be received and driven to Bhimtal (30 km / 1 hr) located in the foothills of Himalayas, a gateway town to higher regions of Kumaon. Afternoon trek to Sat Tal and try out cycles. (Trekking: 30 mins, Cycling: 10-15 KM)
Overnight at Fredy's Bungalow

Day 2: Bhimtal – Chalnichhina
After breakfast we cycle uphill to Naukuchiya Tal, another picturesque lake town in Kumaon. We will return to Bhimtal and head to Chalnichhina. It is a gradual uphill ride through pine trees that opens up to very picturesque landscapes .We ride to the village of Chalnichhina. The ride is predominantly downhill with a bit of uphill towards the end when nearing Chalnichhina. Located amidst Oak trees and terrace farmlands, Chalnichhina offers great views of the valley and the snow-capped mountains. (Cycling 35-40 KM, Trekking 20 Minutes)
Overnight at Itmenaan Estate.

Day 3: ChalniChinna
This morning we will go for a day hike with picnic lunch in the neighboring area. Share tea with locals, hike to the highest point for enchanting views…Himalayan peaks, lush green terraced fields and also diverse flora-fauna. (Trekking 4-5 hrs)
Overnight at Itmenaan Estate.

Day 4: Chalnichhina – Thikalna
This morning we cycle to the temples at Jageshwar. It is a beautiful ride through Oak and Deodar forests with picturesque views of the hills and the valley below. The temples at Jageshwar are believed to have been constructed between the 8th century and 18th century. After visiting the temples, we will continue to the village of Thikalna. (Cycling 20-25 KM)
Overnight: Thikalna Village House.
Day 5: Thikalna – Chitai – Kasar Devi – Ganghet
Today we will cycle to the rock paintings at Barechhina. We continue to Chitai Temple which is dedicated to Golu Devta and is known for thousands of bells hanging at its entrance. We cycle to our final destinal of the day, Kasar Devi Temple which dates back to 2nd century. It offers panoramic view of the Himalayas. (Cycling 60-70 KM)
Overnight: Ganghet Village House.
Day 6: Ganghet – Kathgodam – Delhi
After a leisurely breakfast we will drive back to Kathgodam railway station (4 hours) for train back to Delhi.

For any queries please write to us at [email protected] or call on +91-9818705508.