A Quite Place to Stay in the Kumaon Himalayas
Itmenaan Estate is a fairytale resort in a peaceful rural setting near Binsar in the Kumaon Himalayas. The 10-acre resort includes virgin pine, oak and rhododendron trees; terraced fields laden with seasonal fruits and vegetables; and to top it all, a small private perennial natural spring. This resort near Binsar offers panoramic views of the Himalayas including the majestic Nanda Devi.

Accommodation at the resort
Itmenaan estate offers 6 tastefully designed rooms in all – we have three rooms in the main structure (one Kafal and two Oak Rooms). There are three standalone cottages – two Pine and another Deodar.
All the rooms and cottages are built in the 100-year-old traditional Kumaoni stone-style architecture.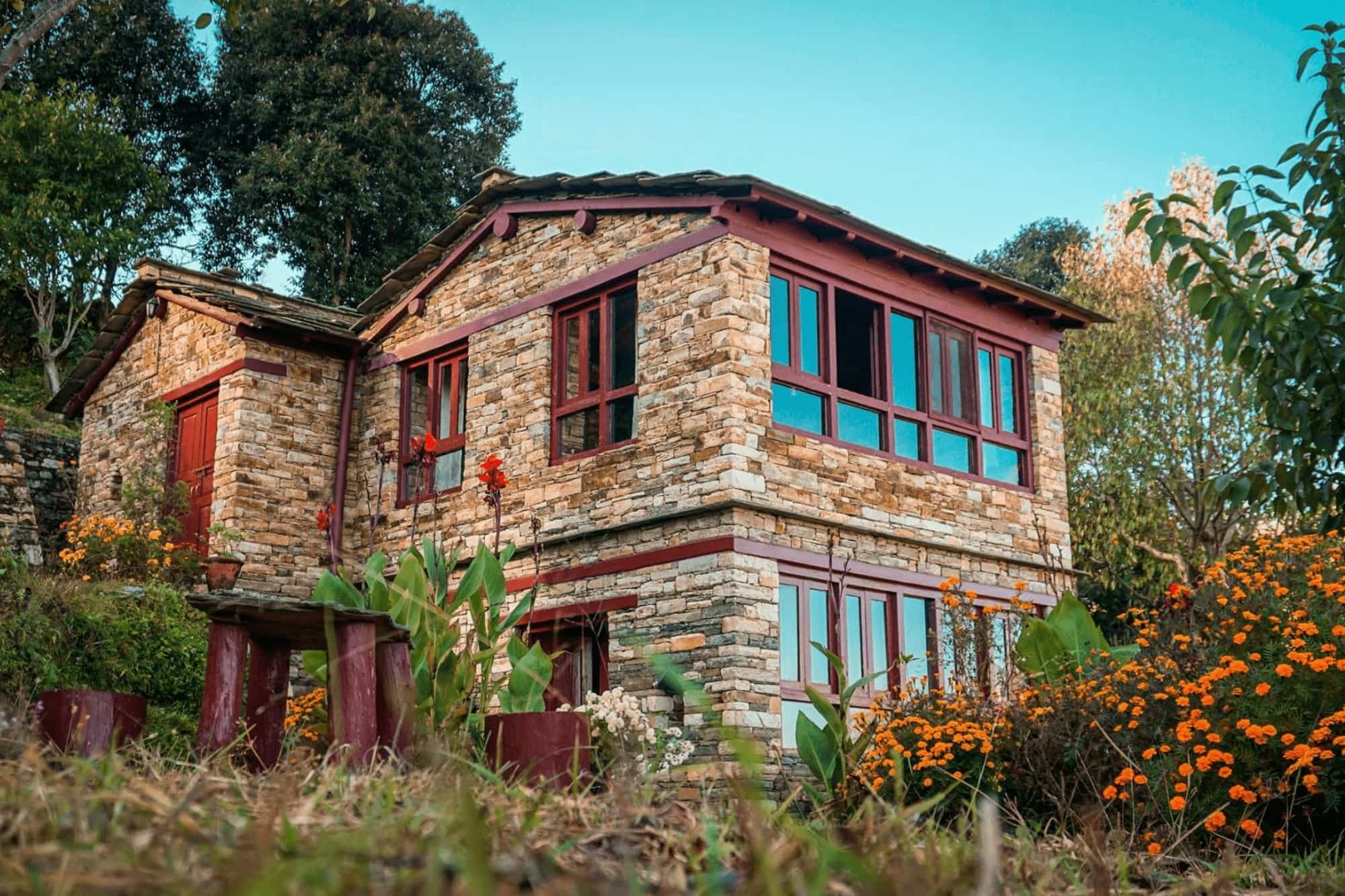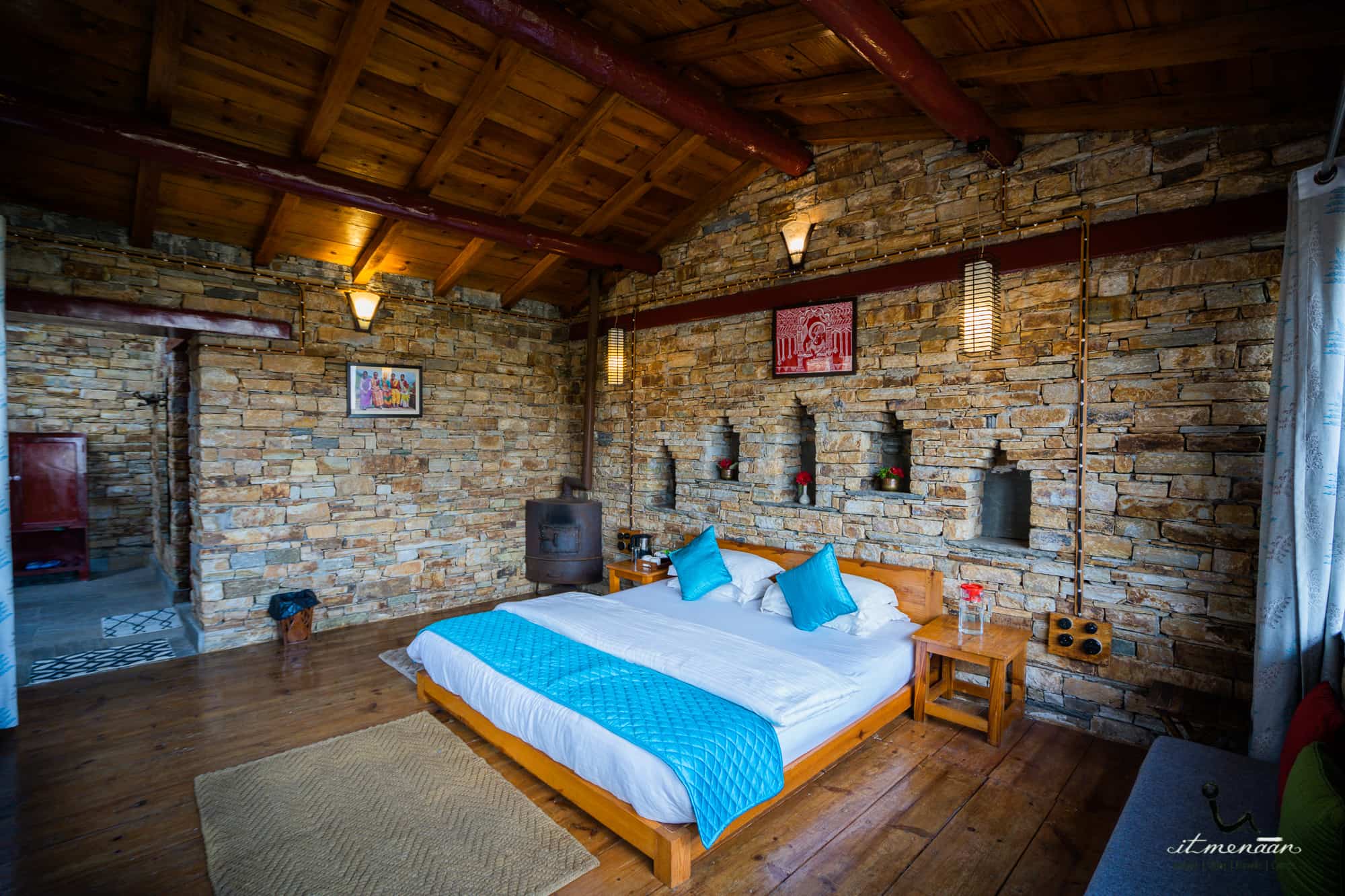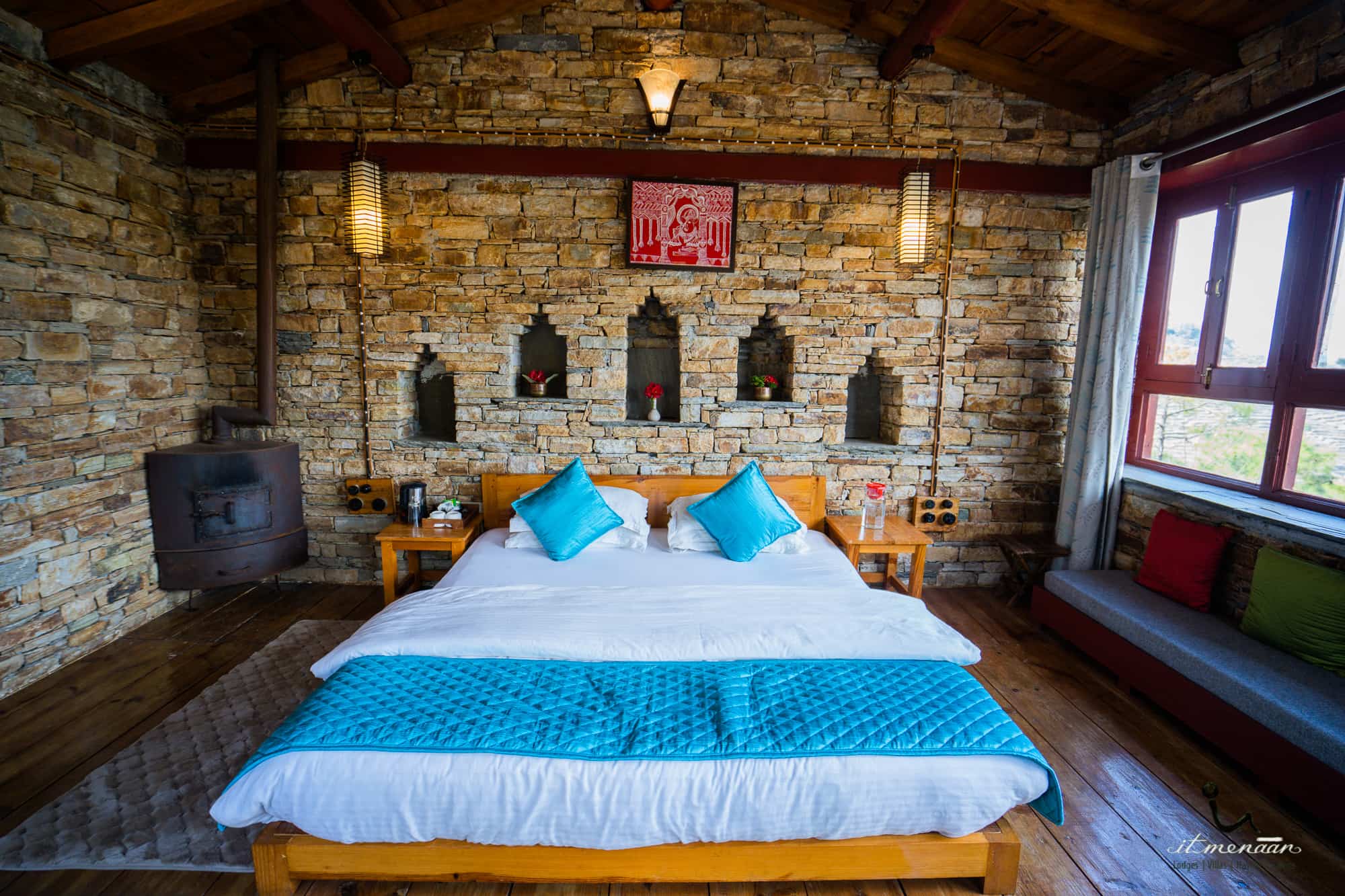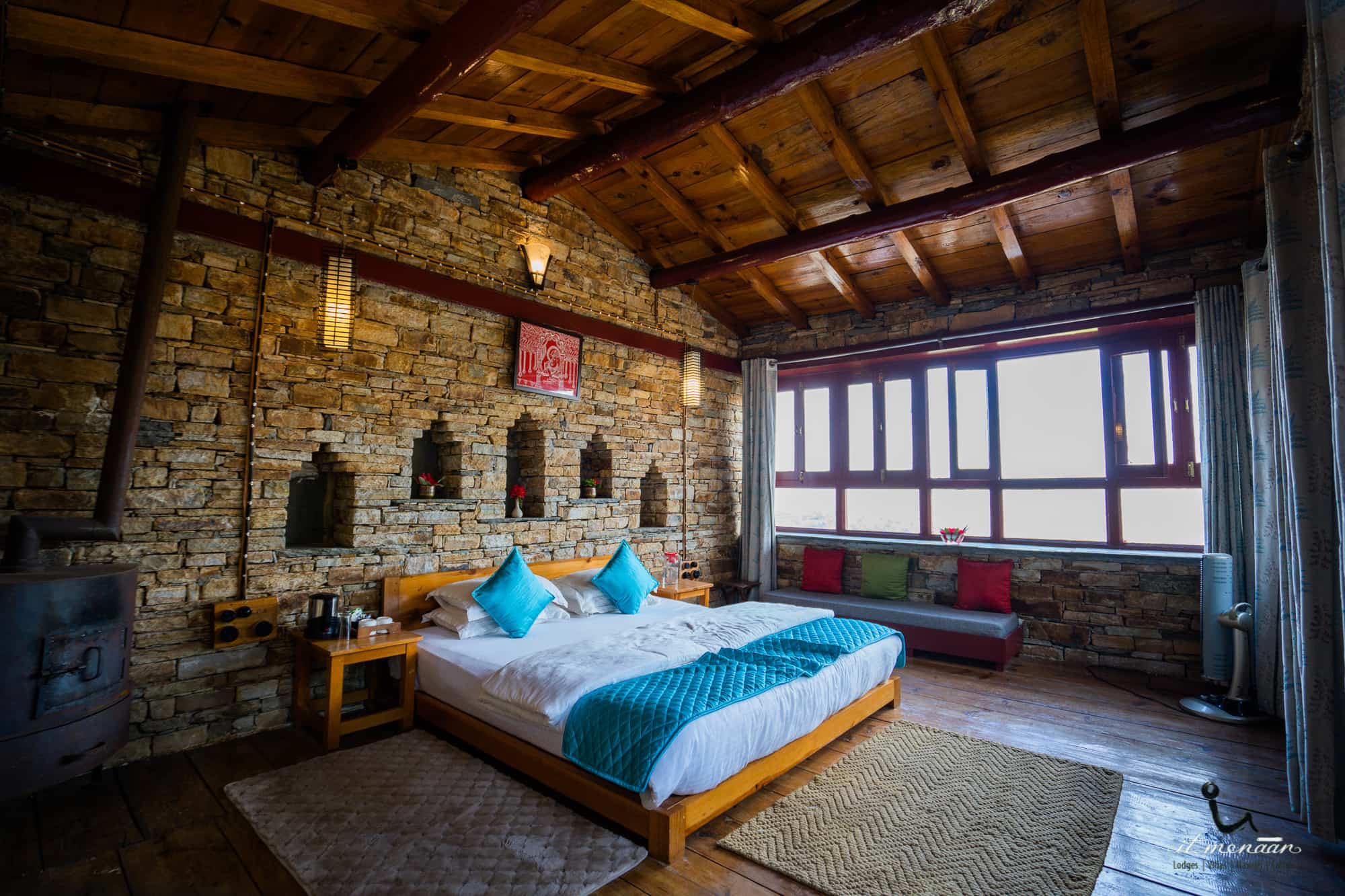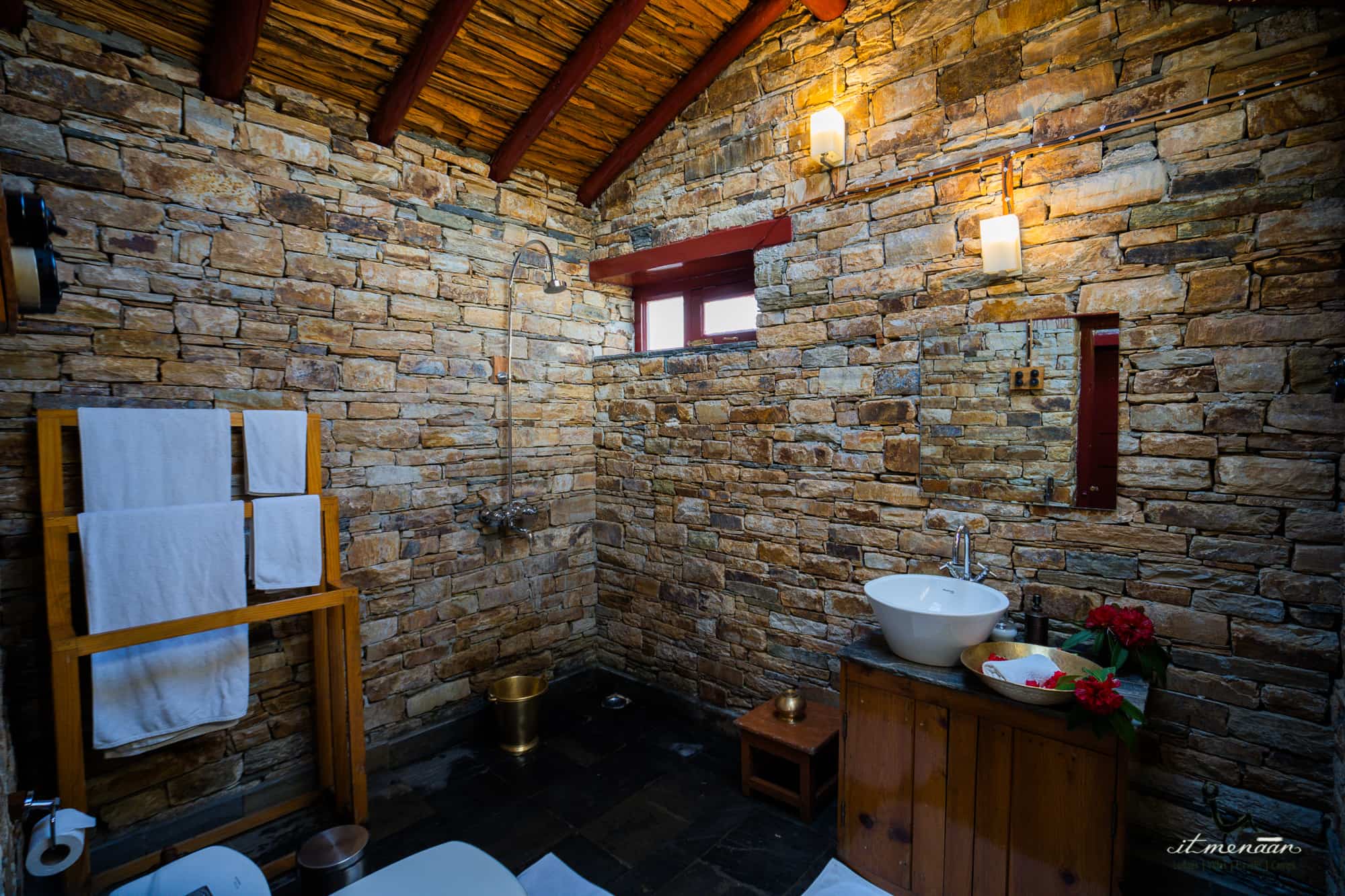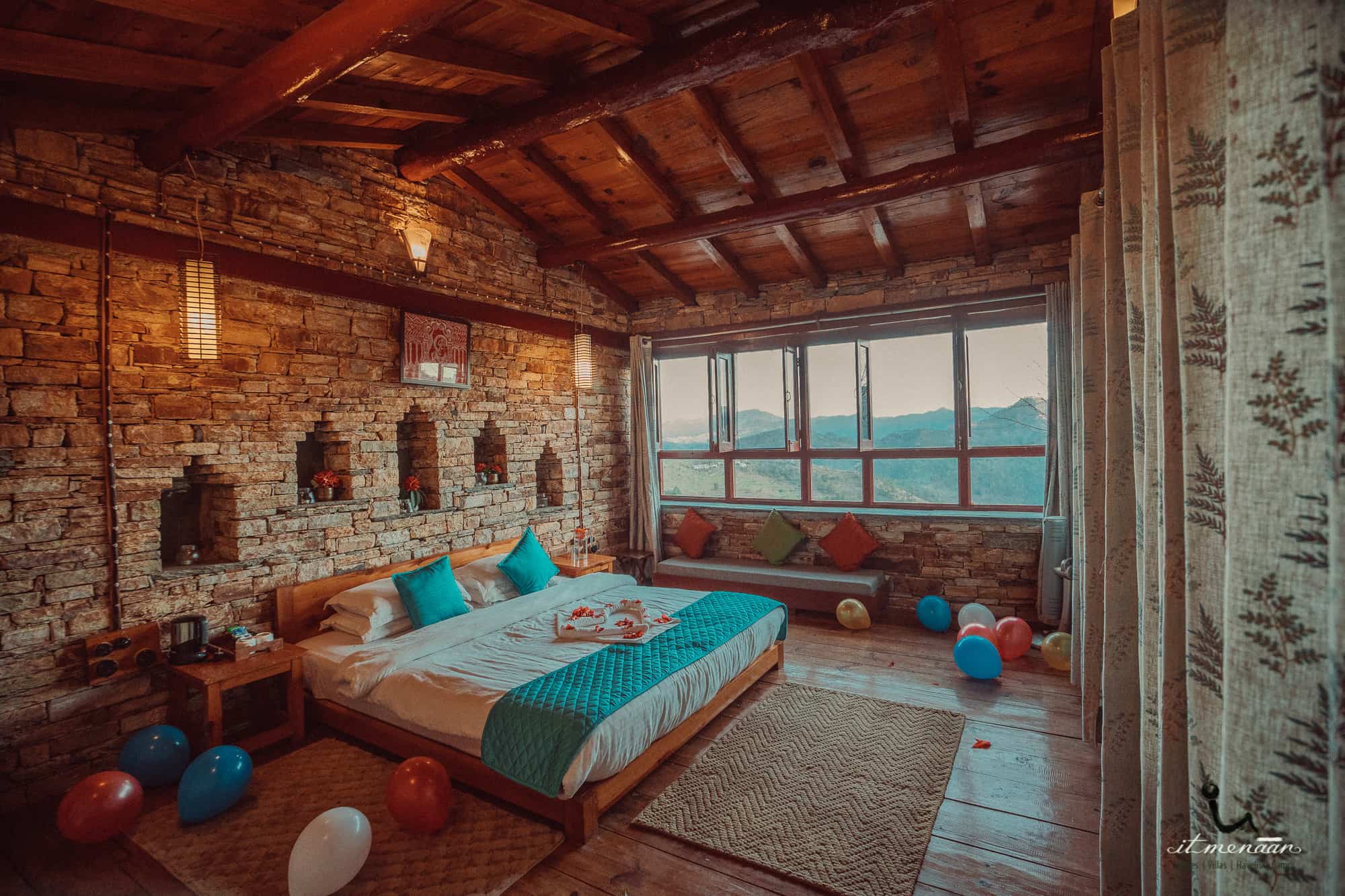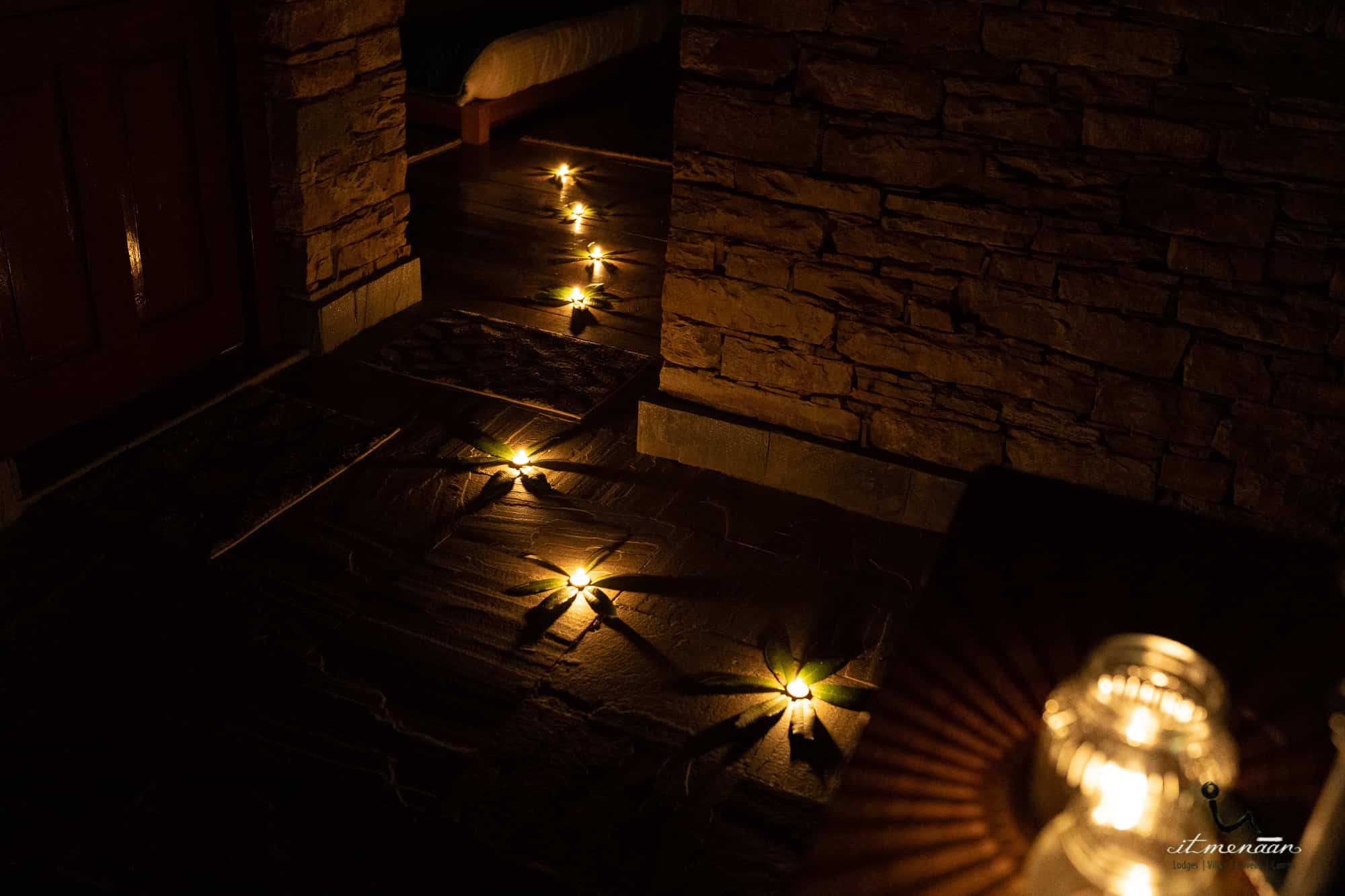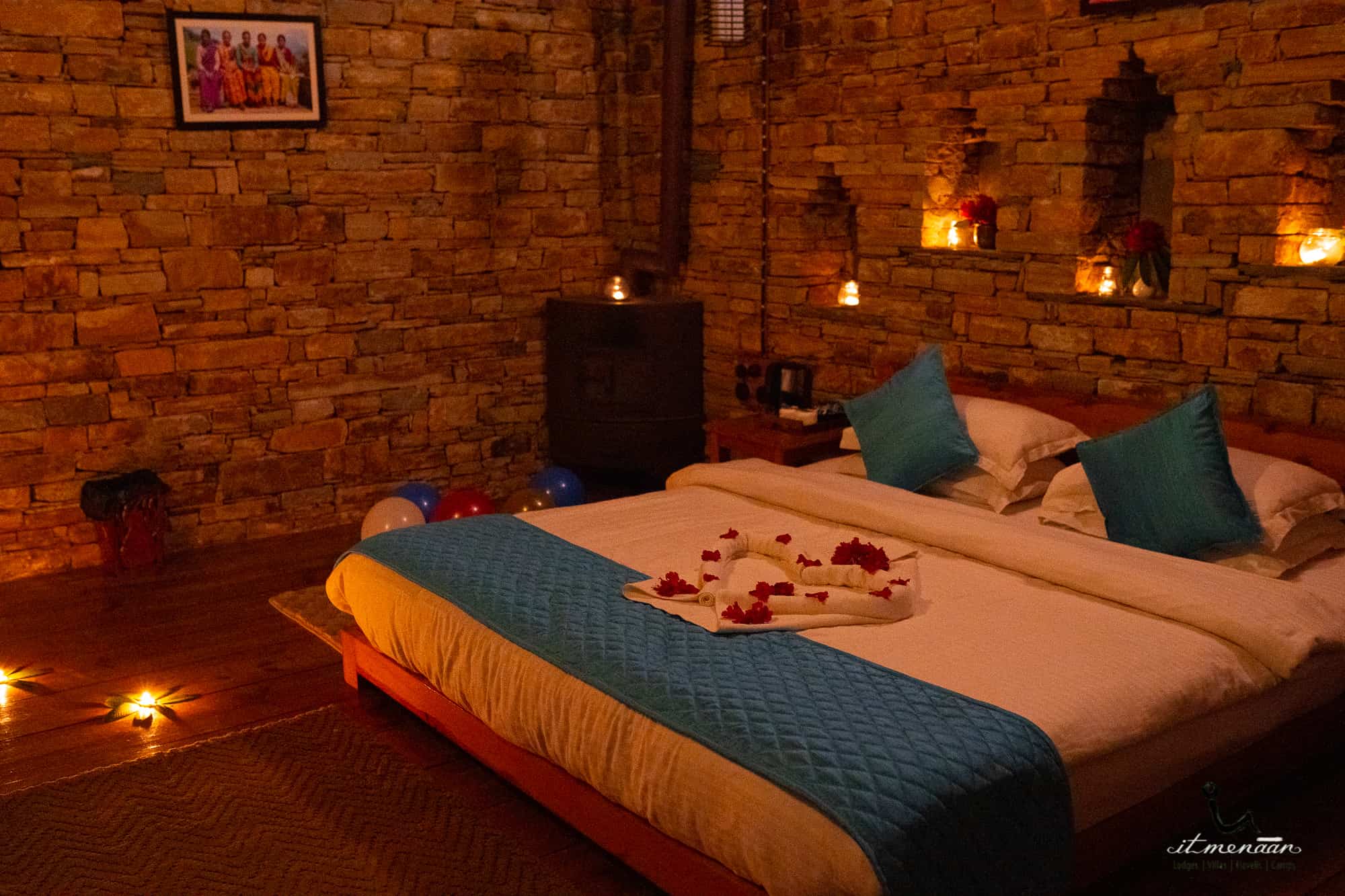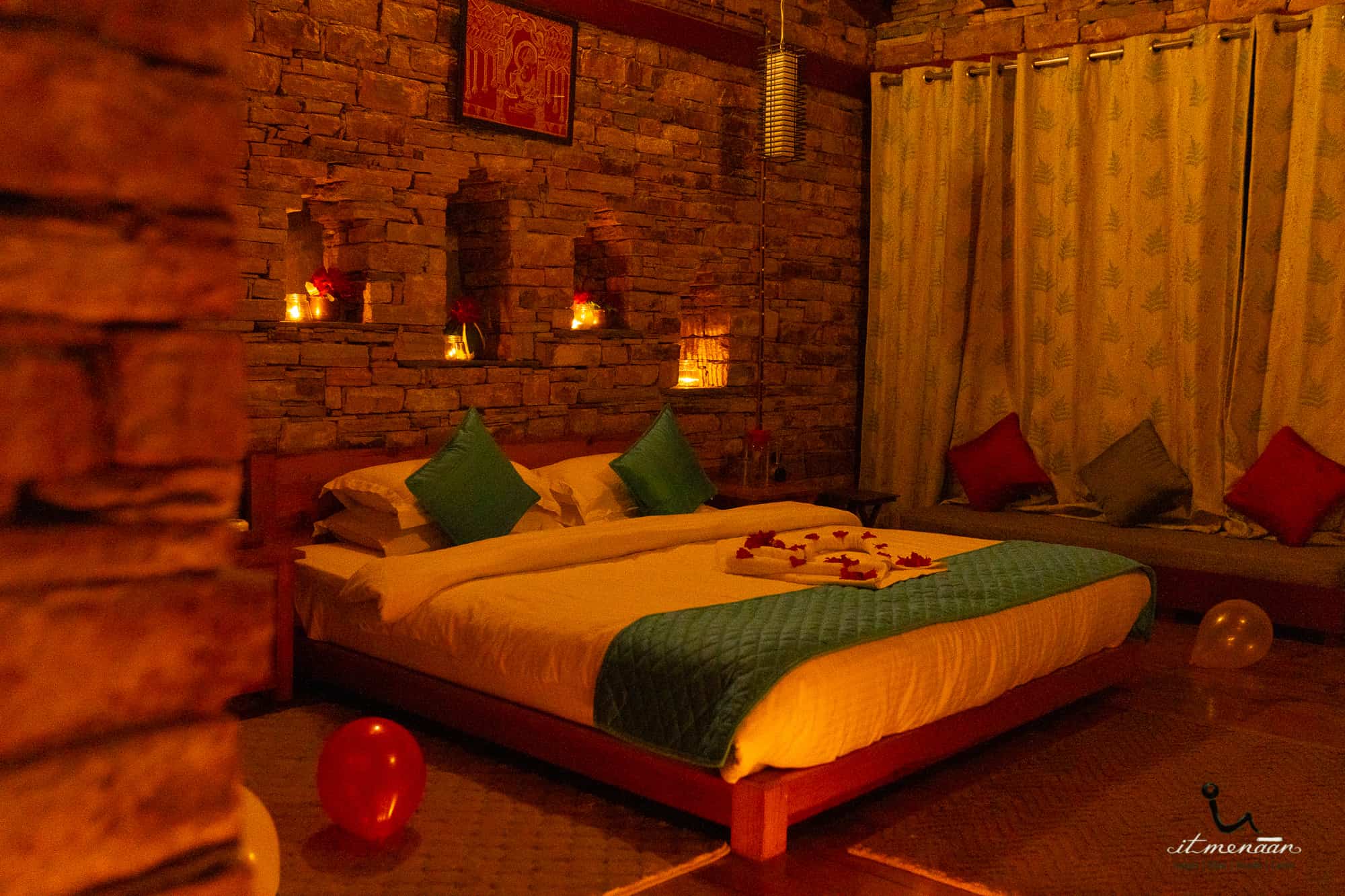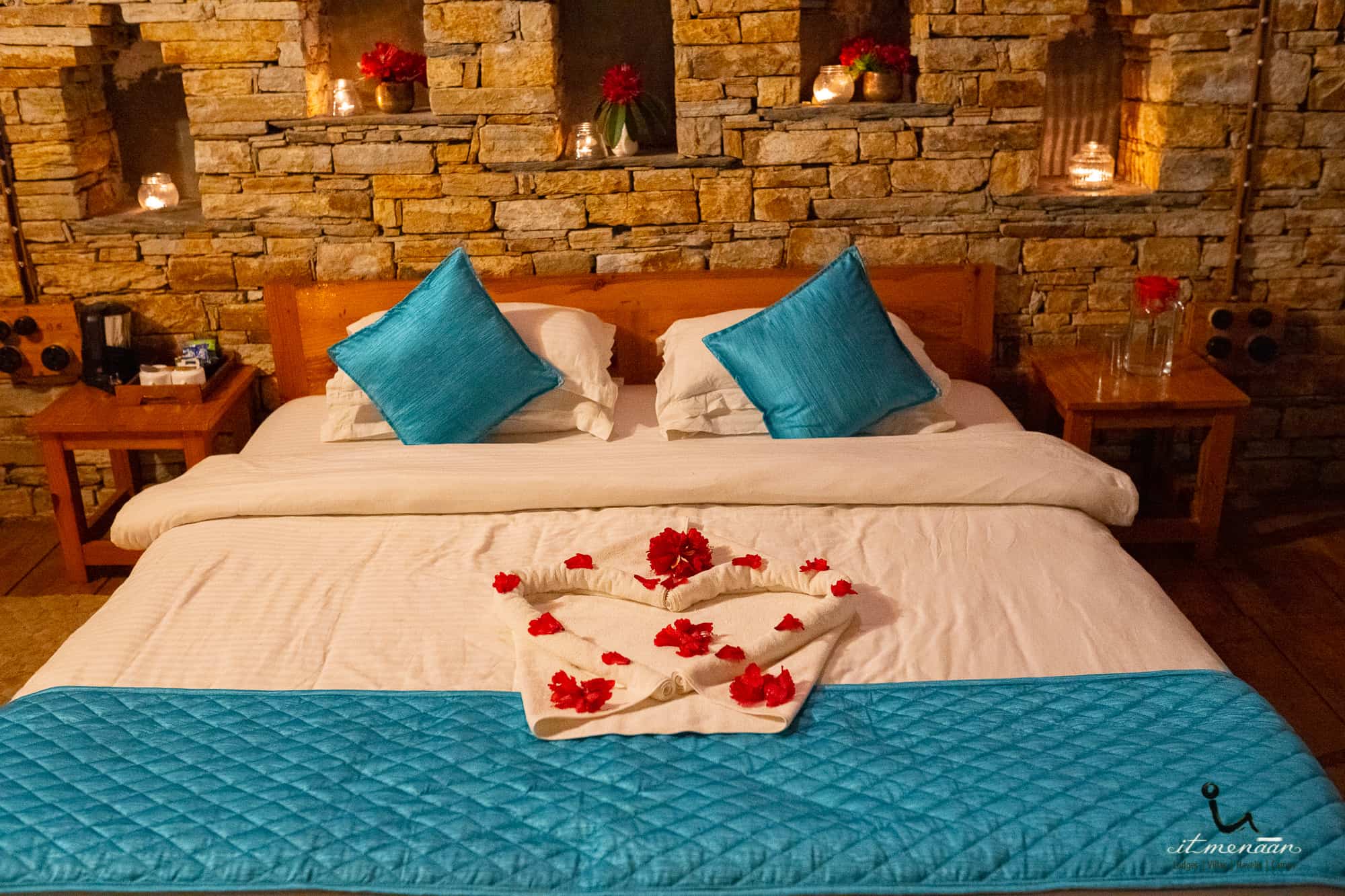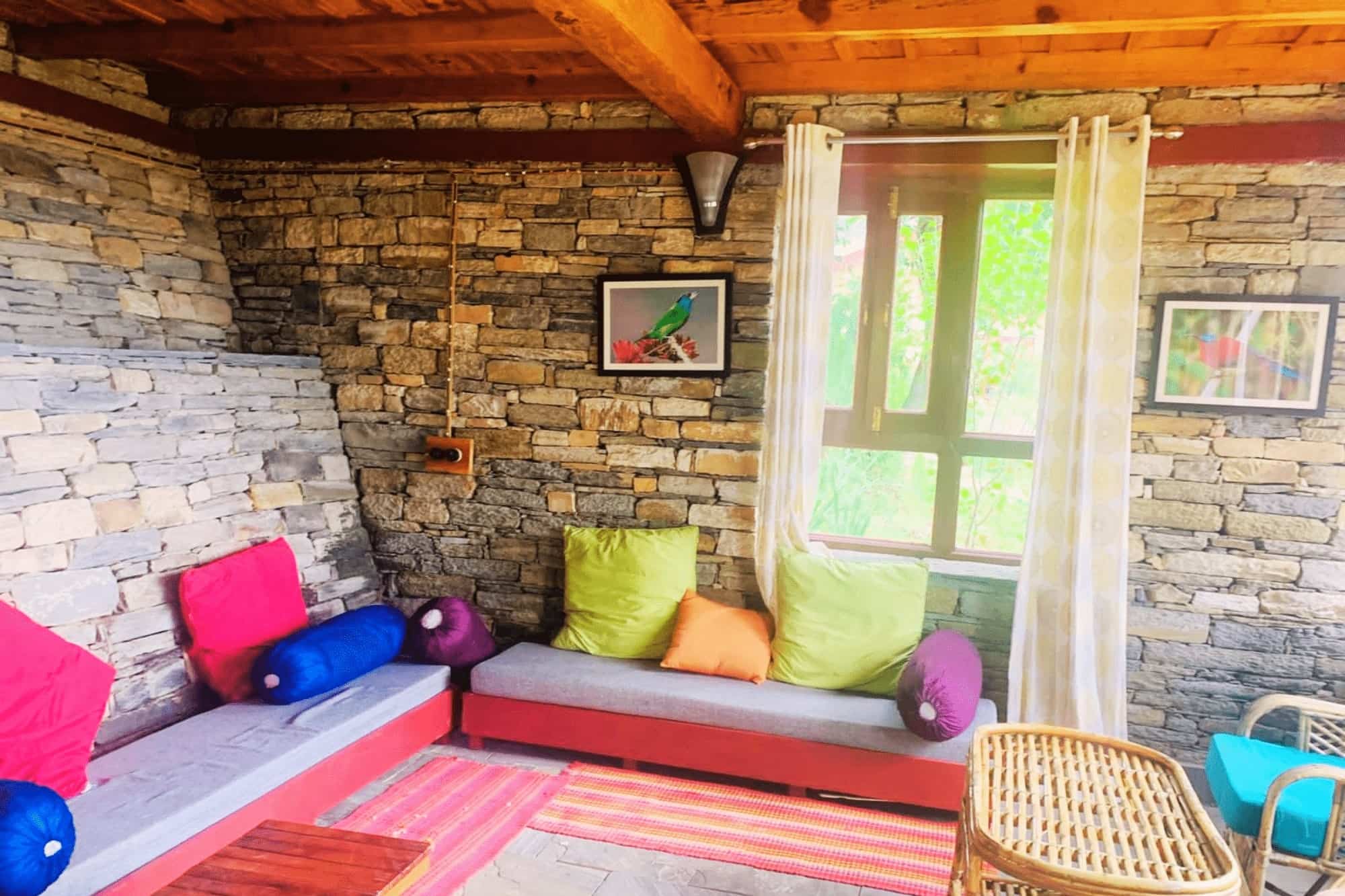 Deodar Cottage is a stand-alone cottage that has a private lounge on the ground floor and the room is on the first floor. The room is spacious and offers stunning views of the valley and Himalayan peaks. The cottage is ideal for people looking for exclusivity and seclusion.
Adults: Up to 2 adults
View: Mountain View
No of rooms: 01

Beds

: Double bed
Best for

: Couples
Pine Cottage is two stand-alone single-story rooms that are spacious and have a sitting area to view the stunning peaks from your room. The large bathrooms are equipped with a glass roof for sunlight to penetrate and are fitted with all modern fixtures and have running hot and cold water at all times.
Adults: Up to 4 adults
View: Mountain View
No of rooms: 02
Beds: Double bed
Best for: Couples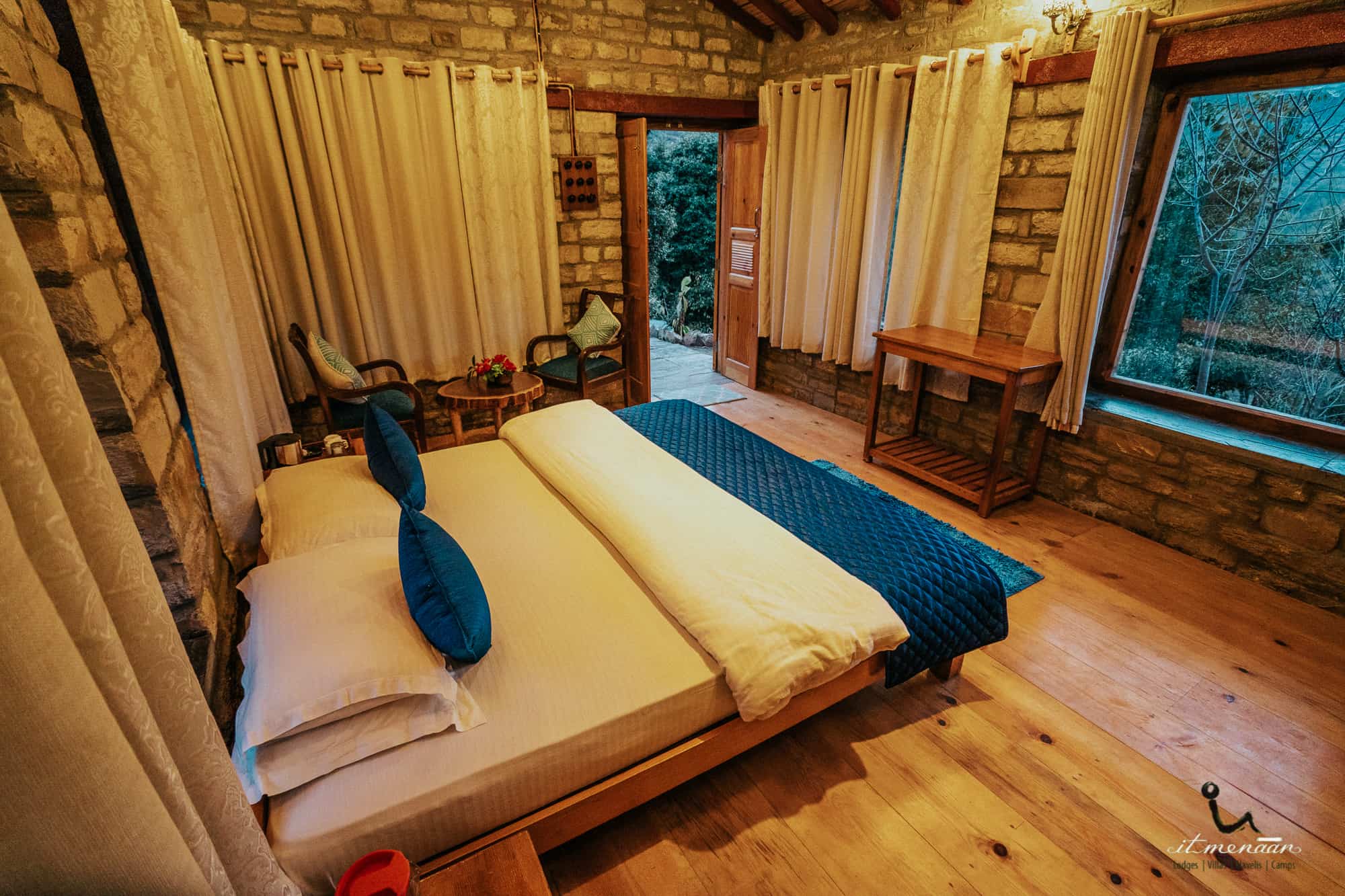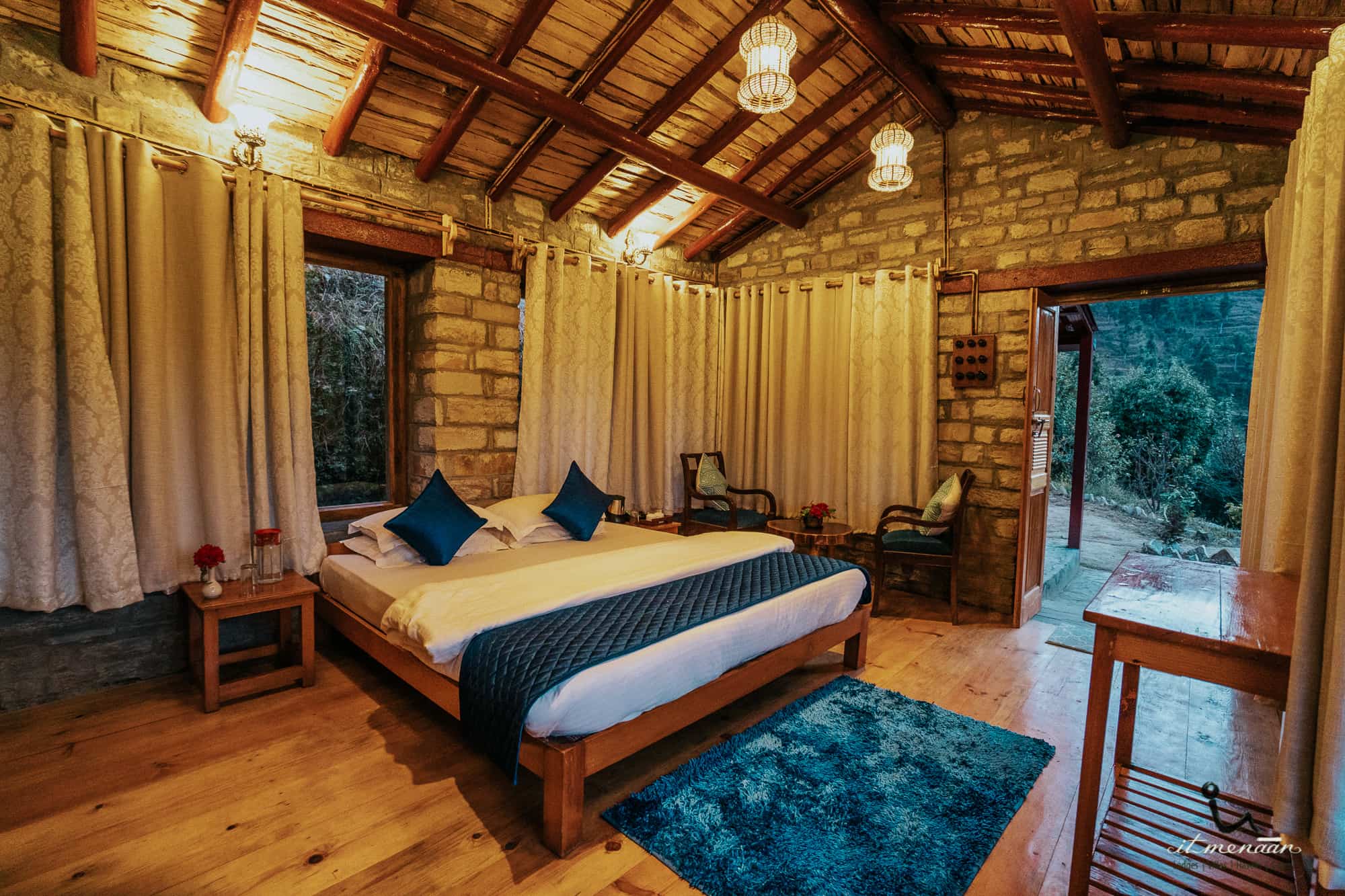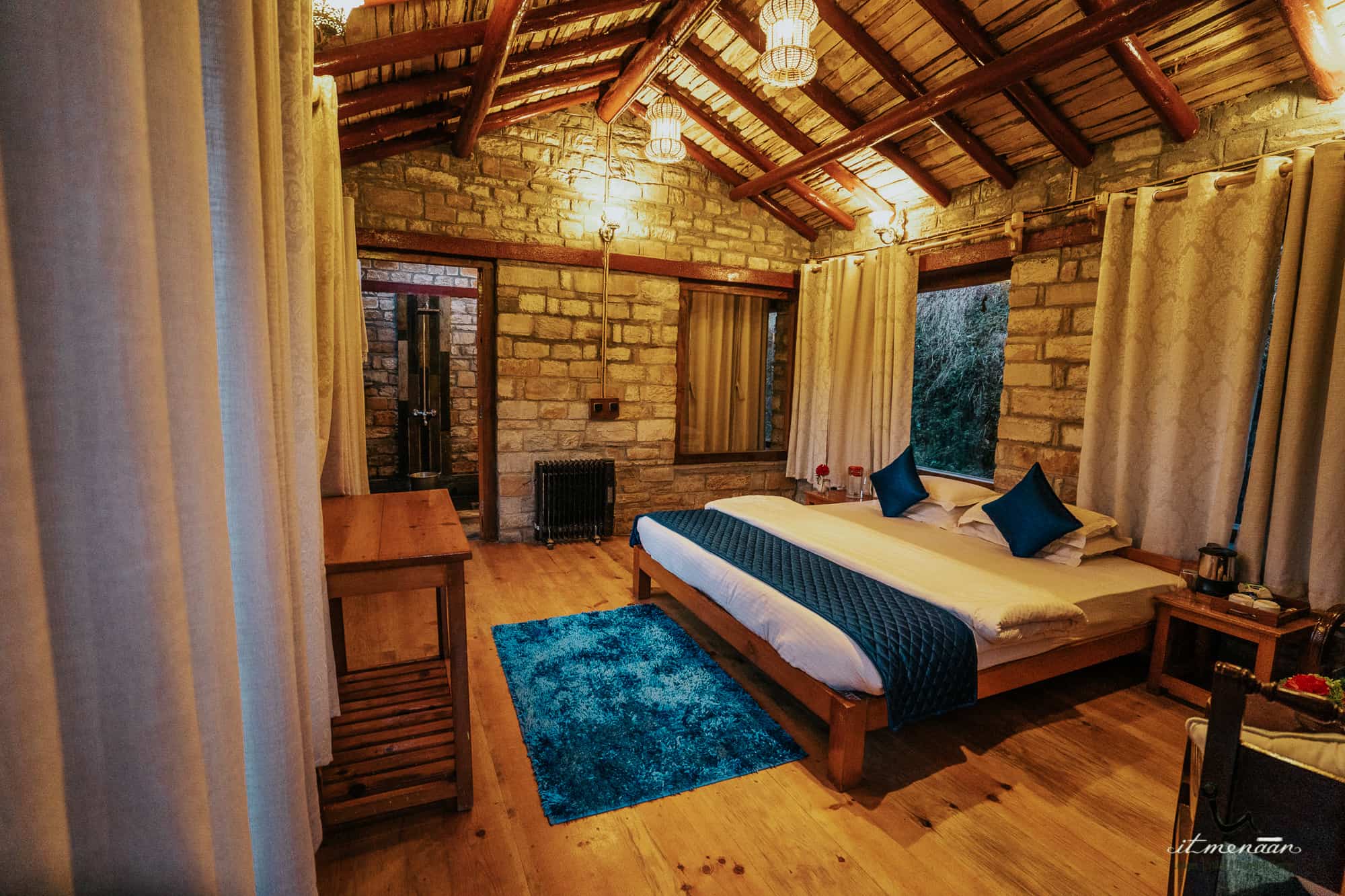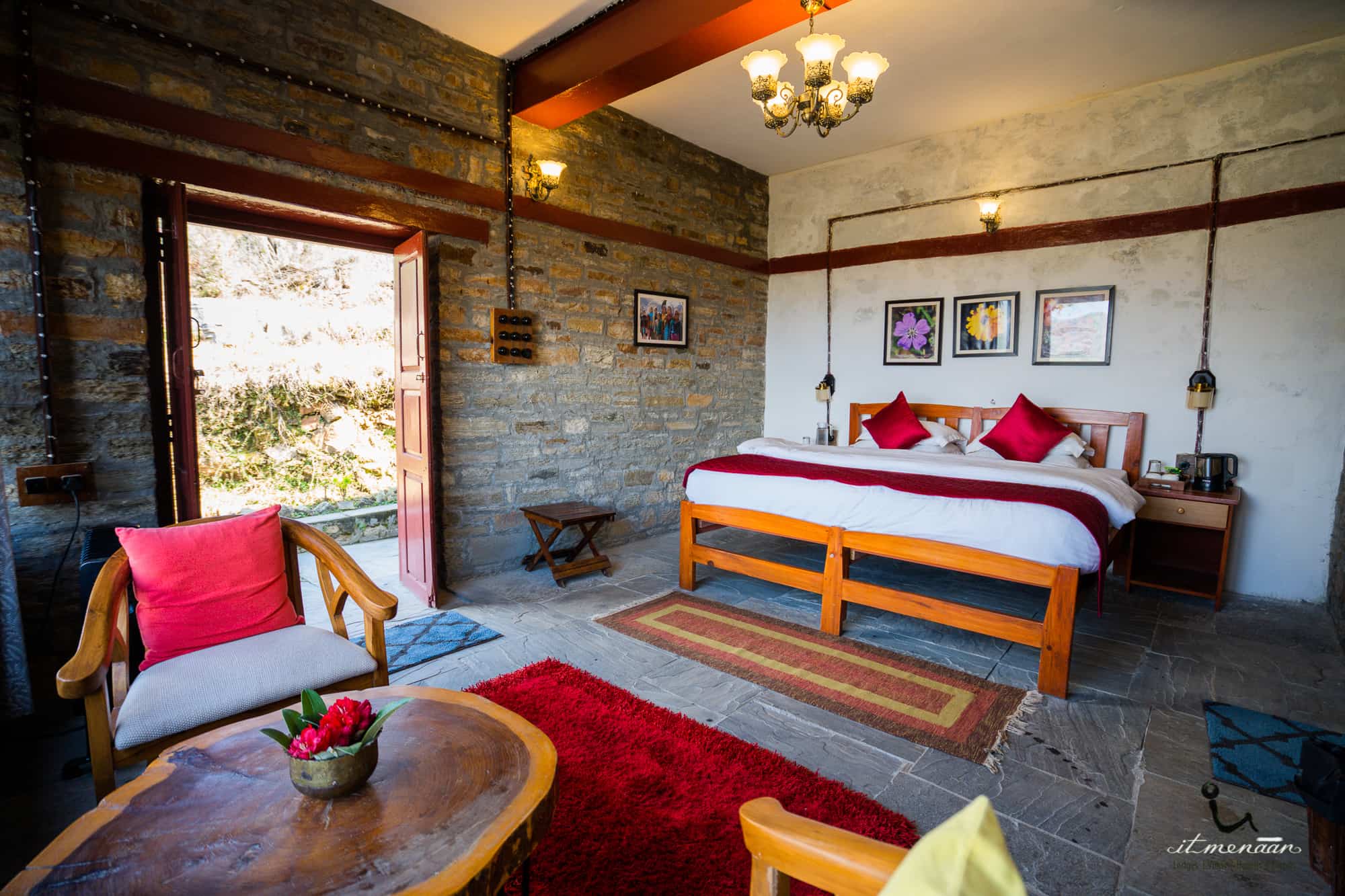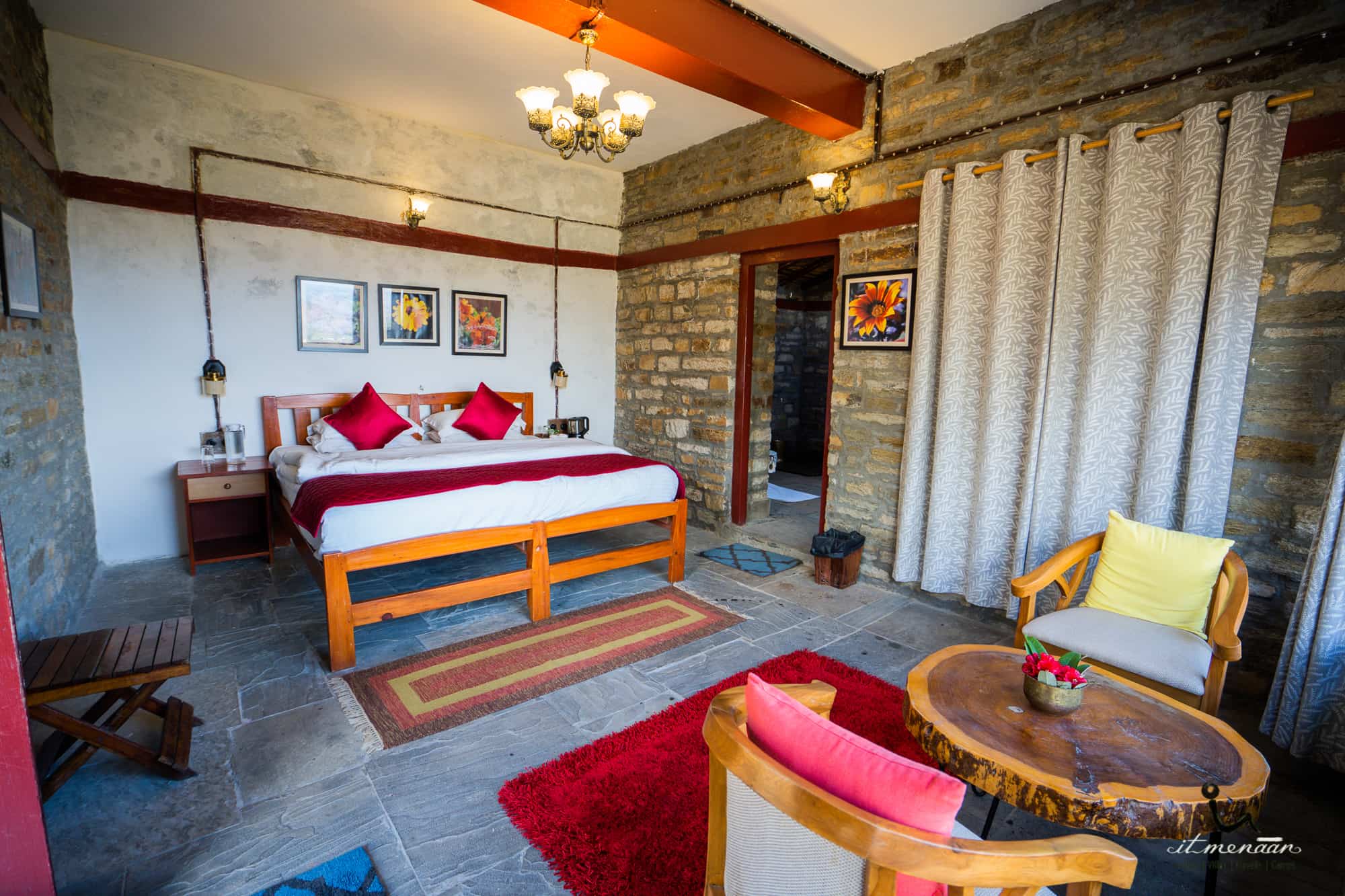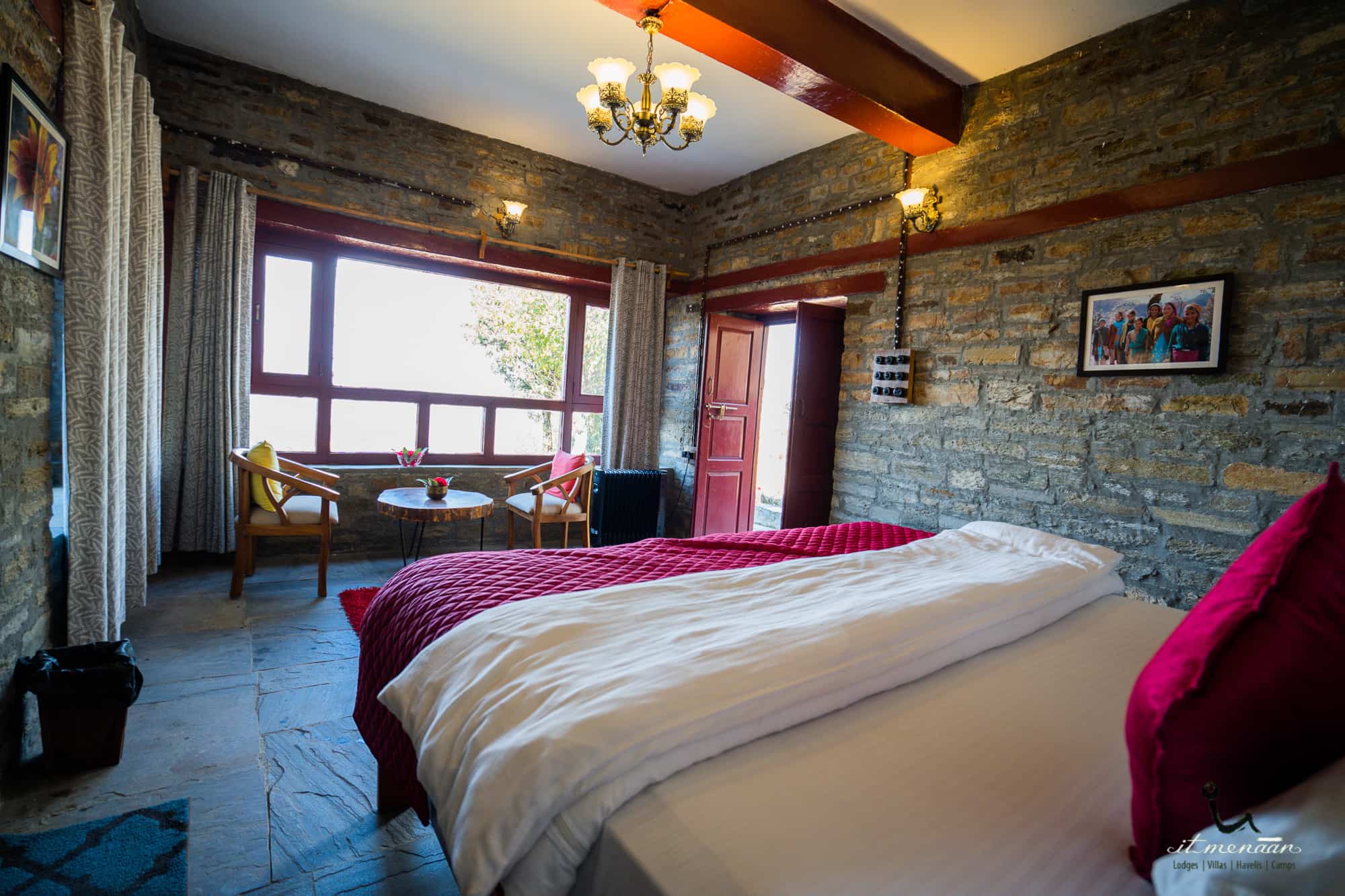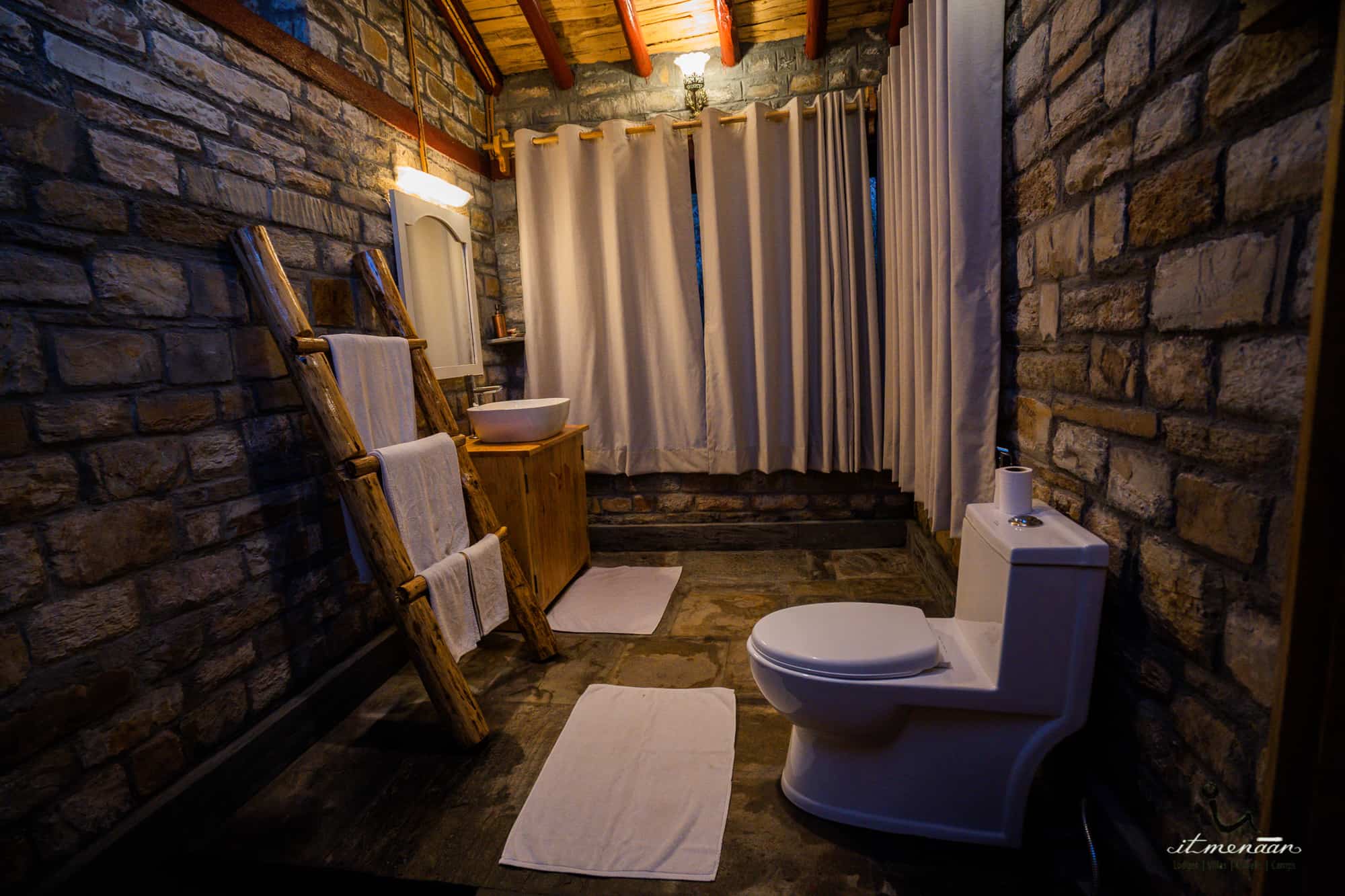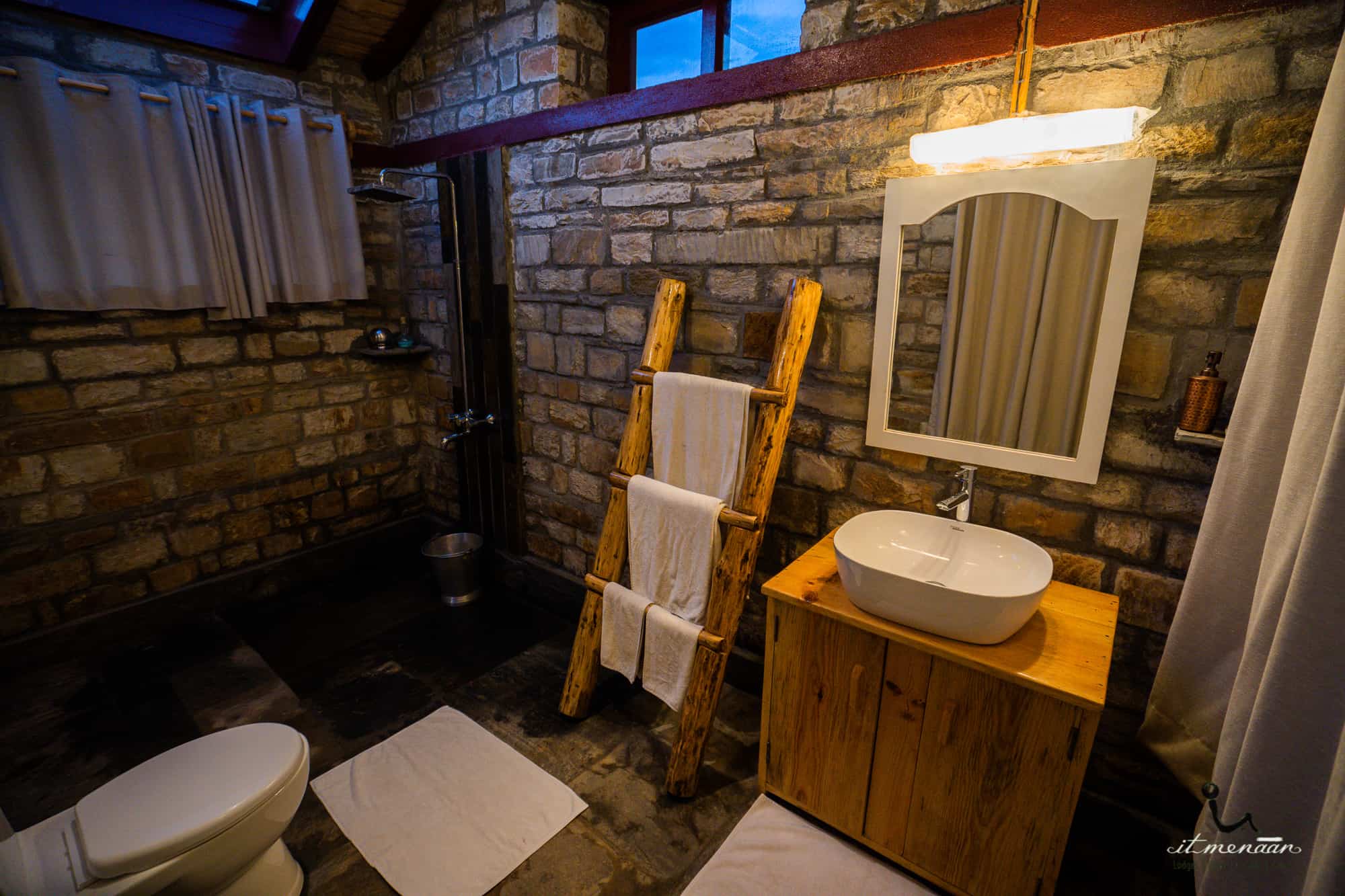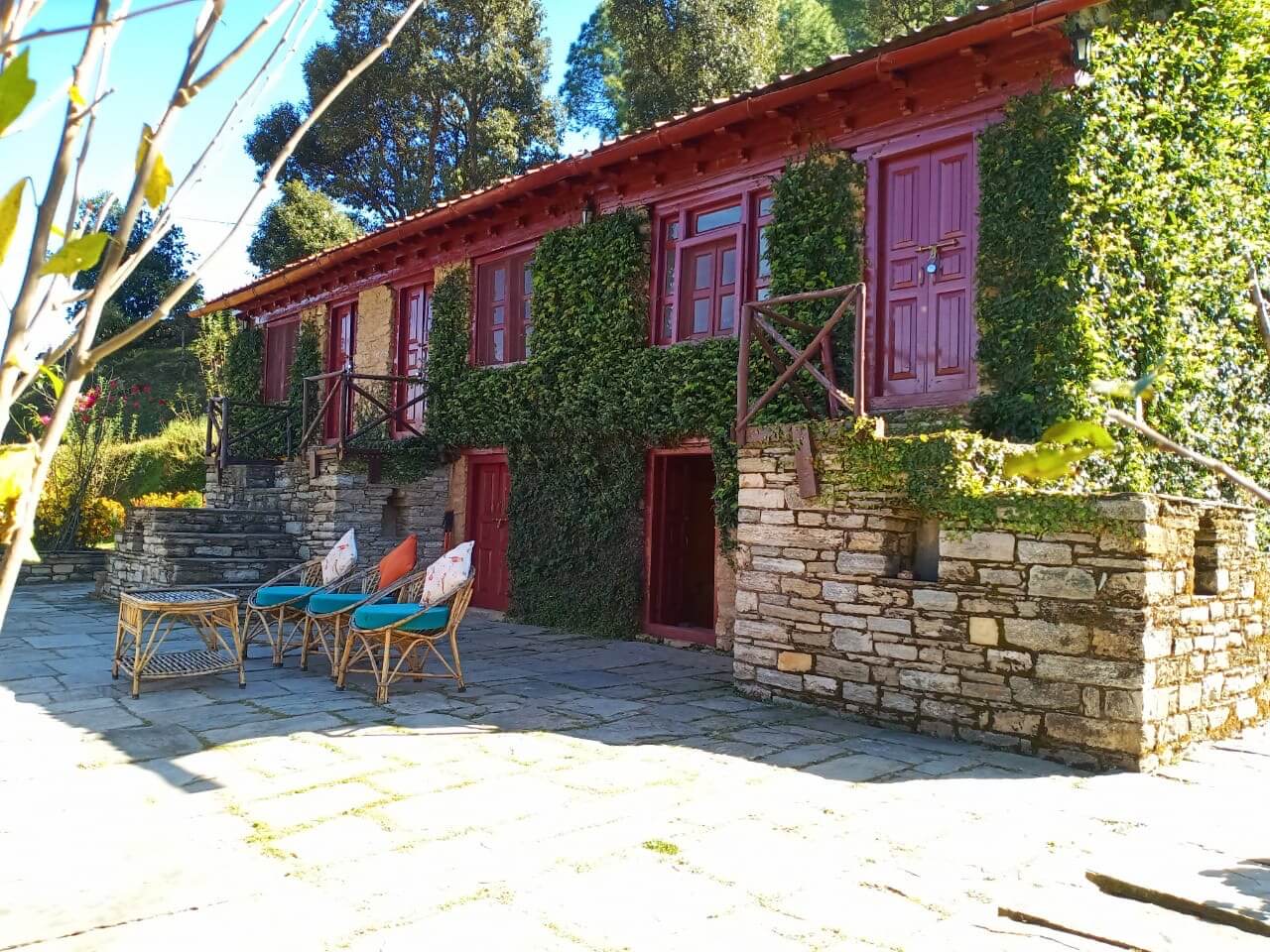 The main structure is a stand-alone building consisting of three uniquely designed rooms with attached baths in each of the rooms built in local Kumaoni-stone style architecture.
One Kafal room and two Oak rooms have a patio/balcony that overlooks the stunning views of the Himalayas. Best suited if you are traveling with a group/family.
Rooms in the main structure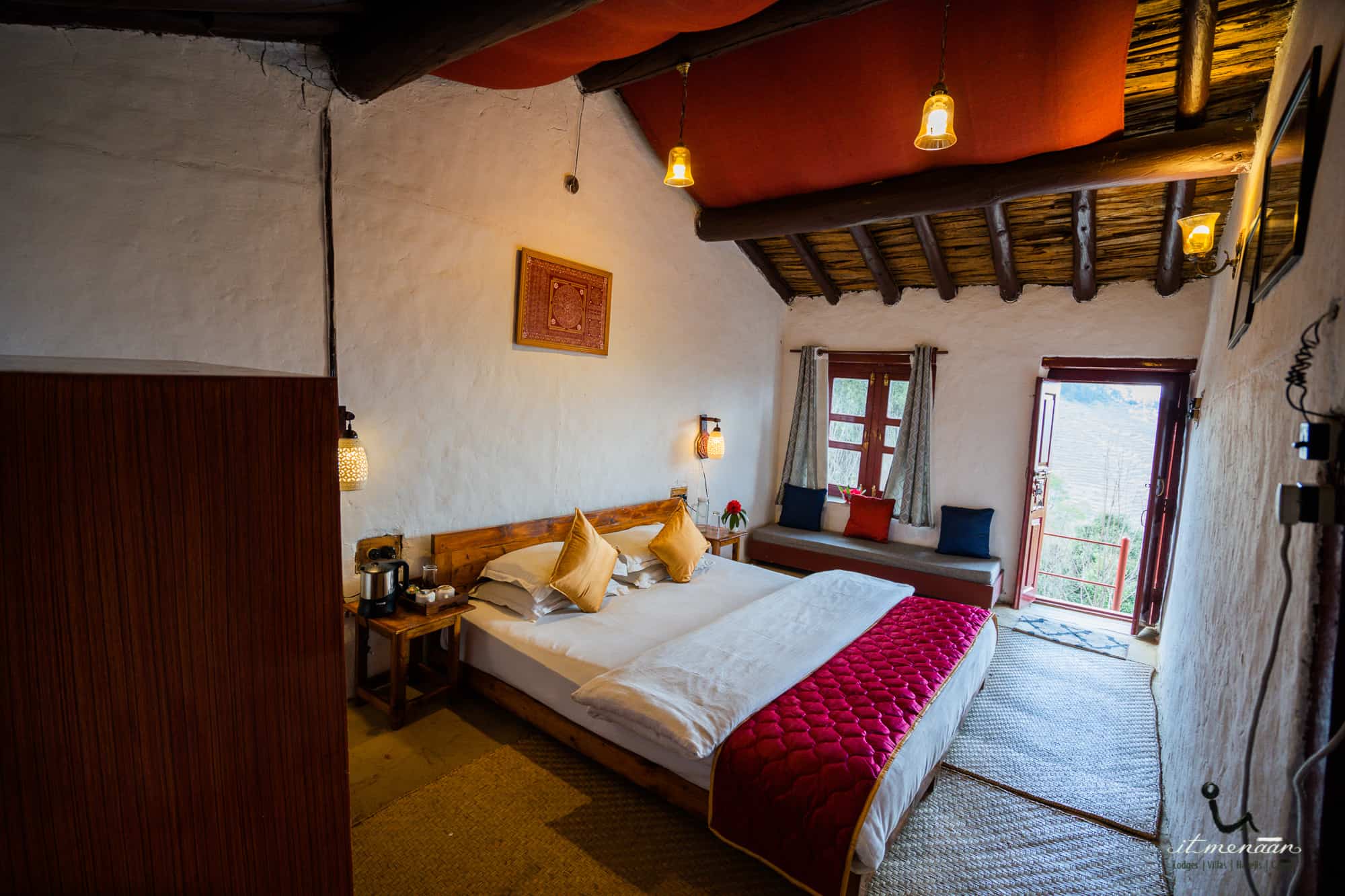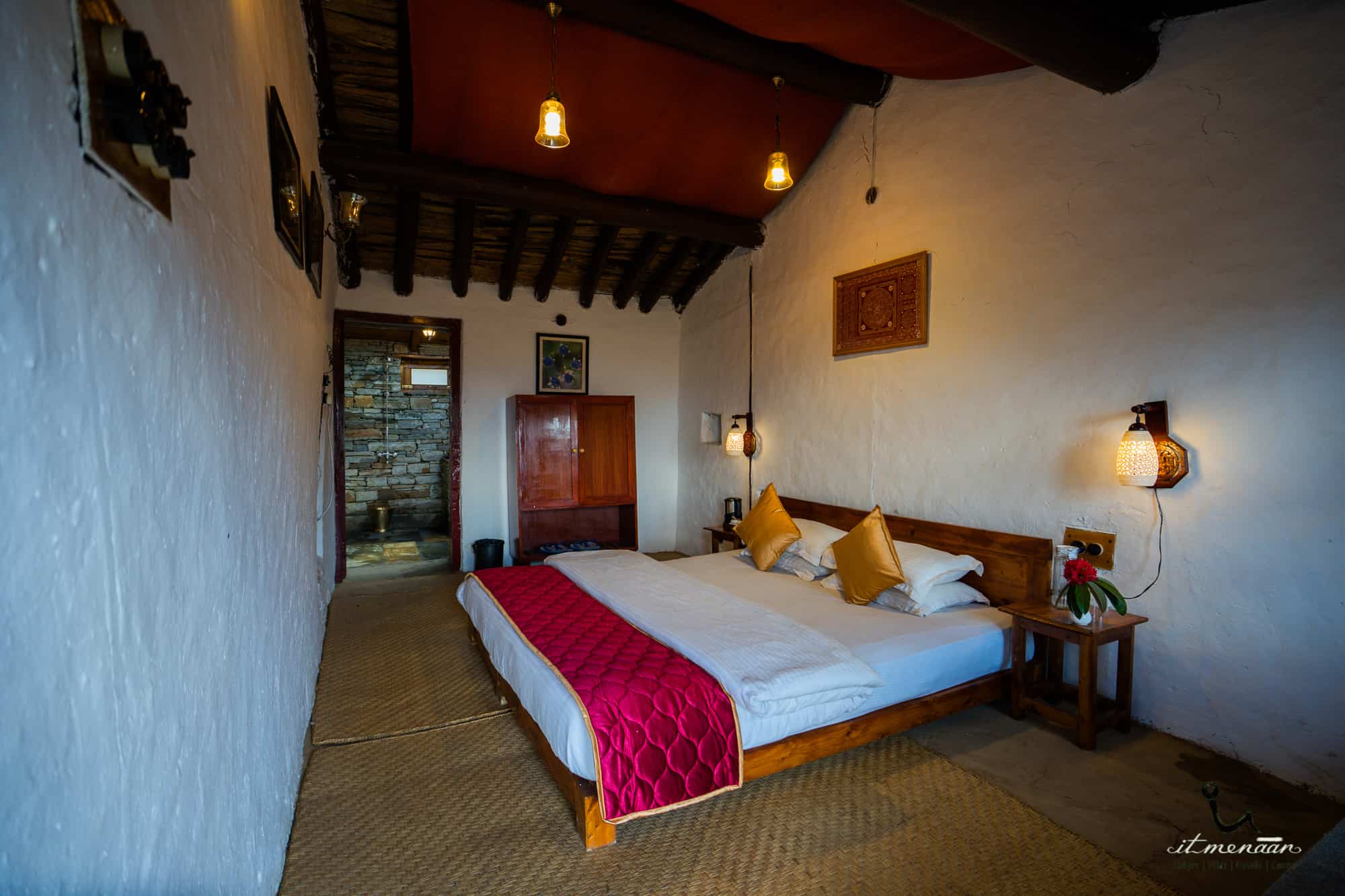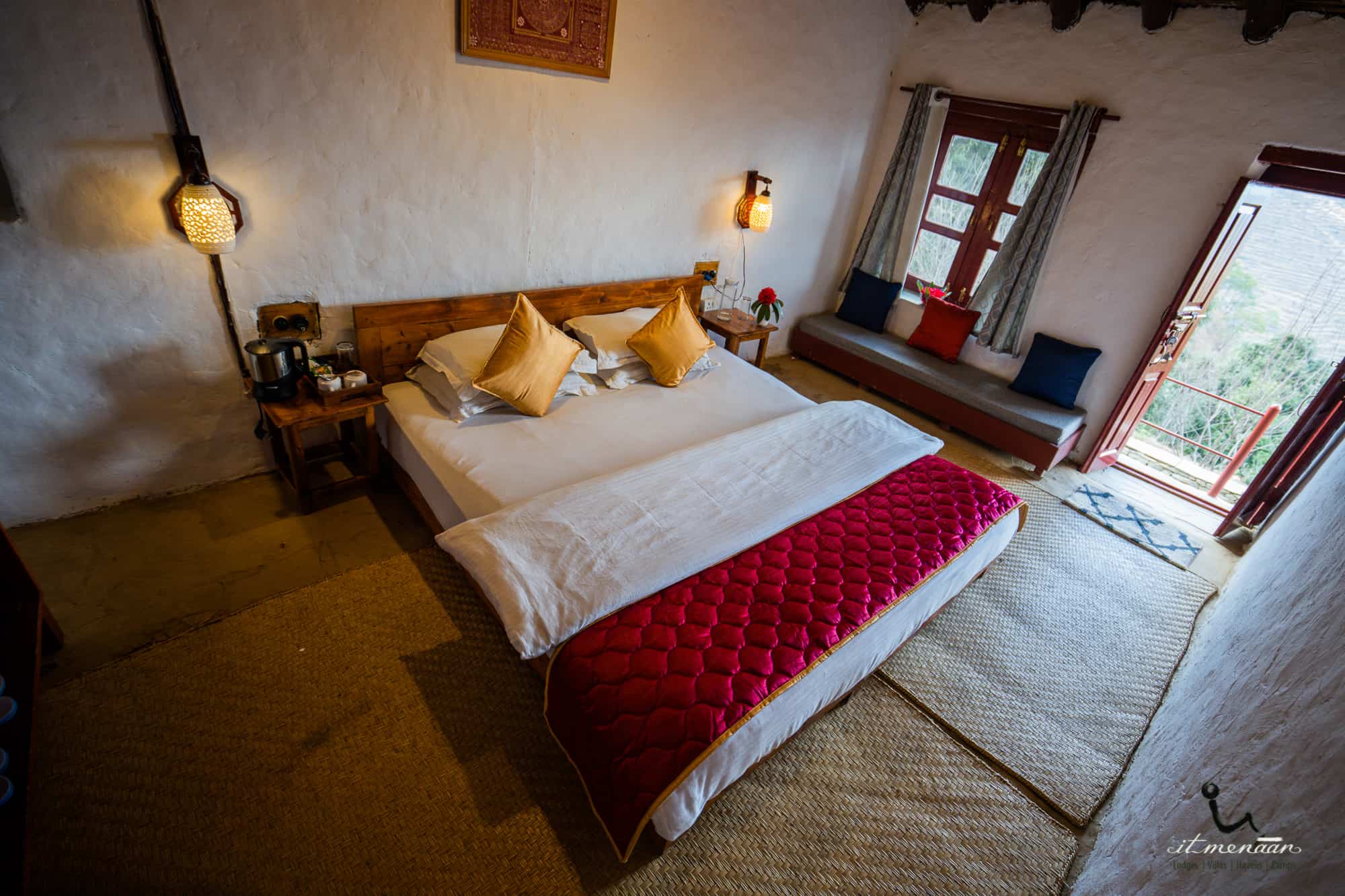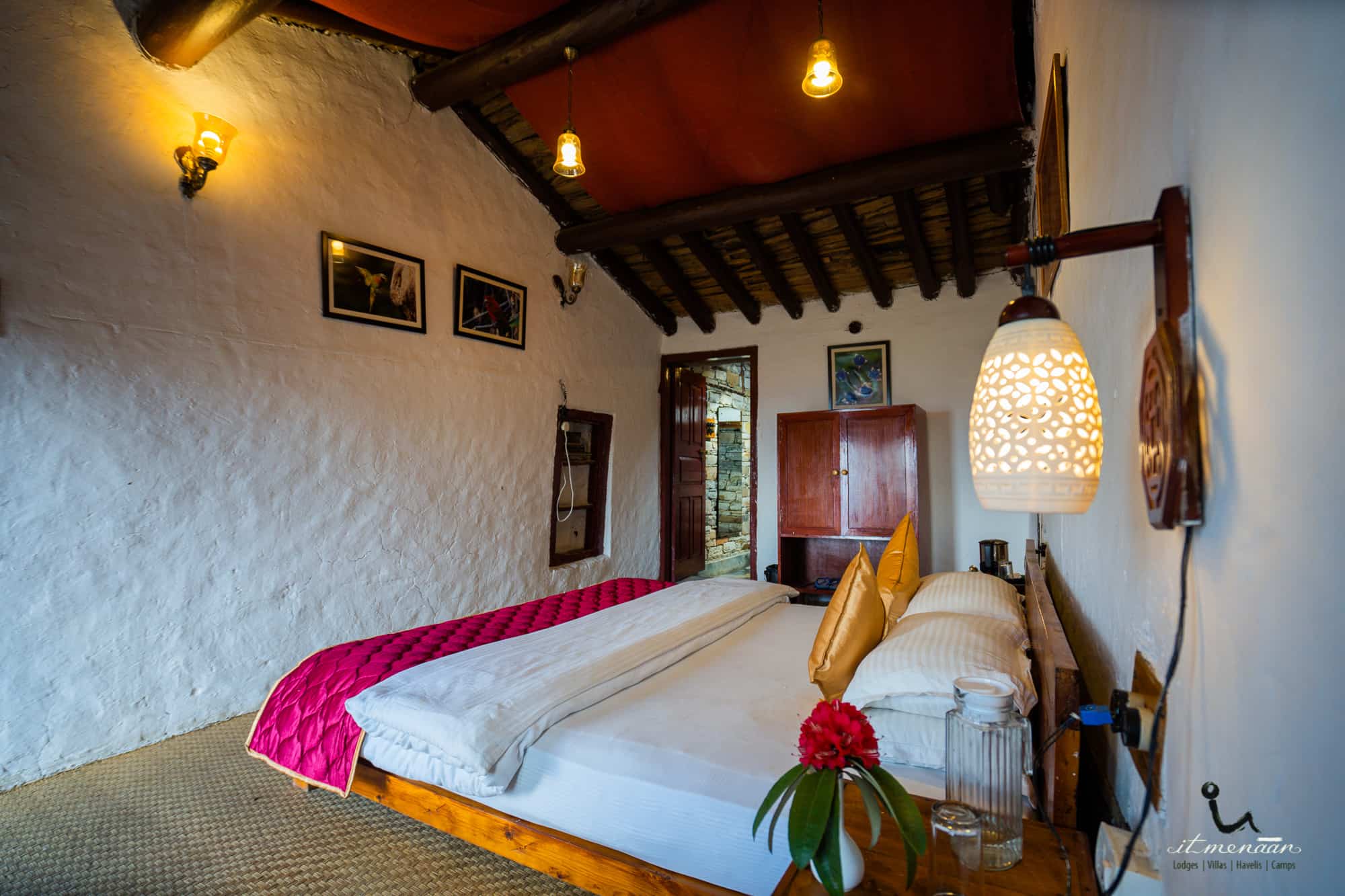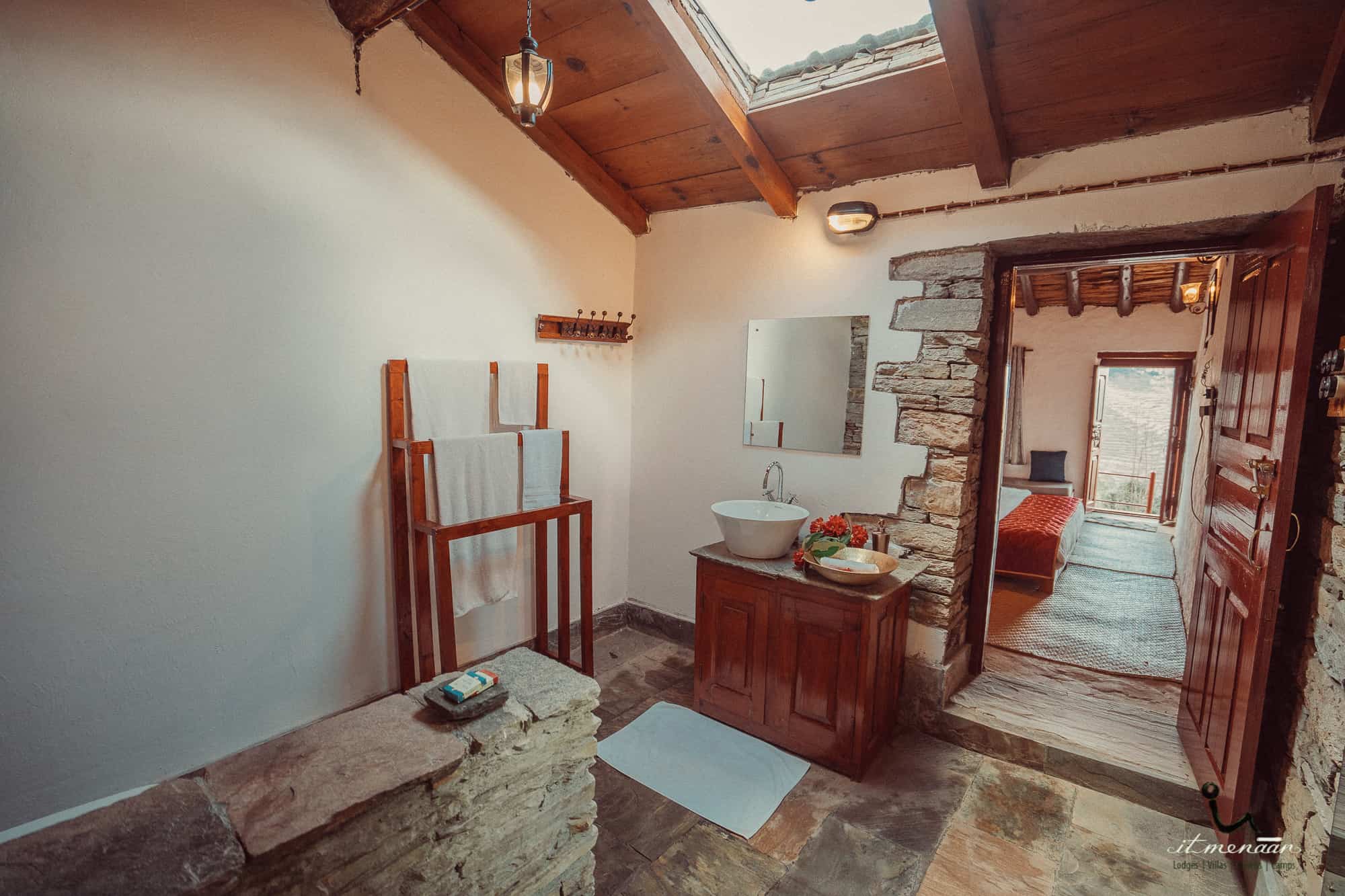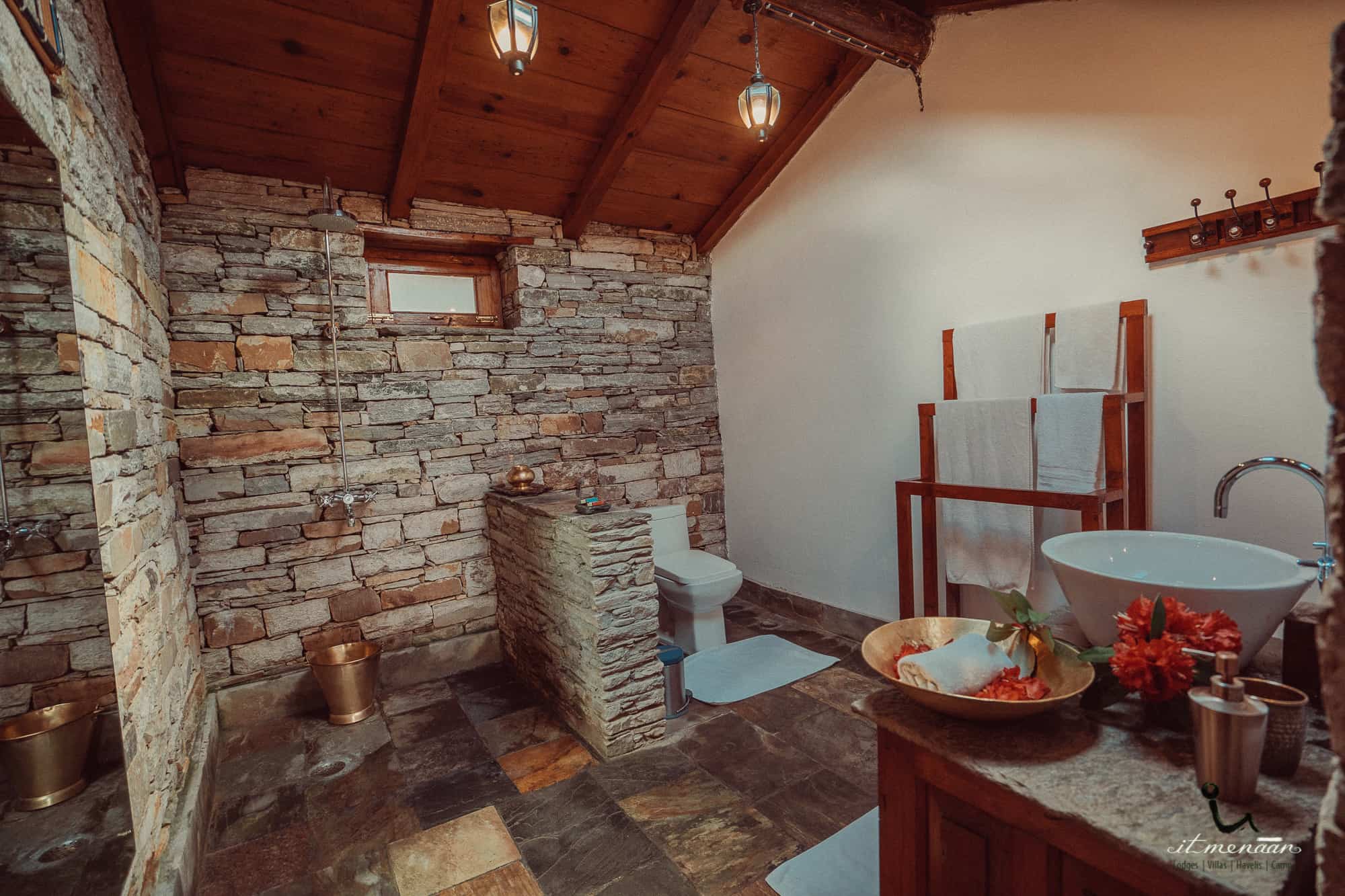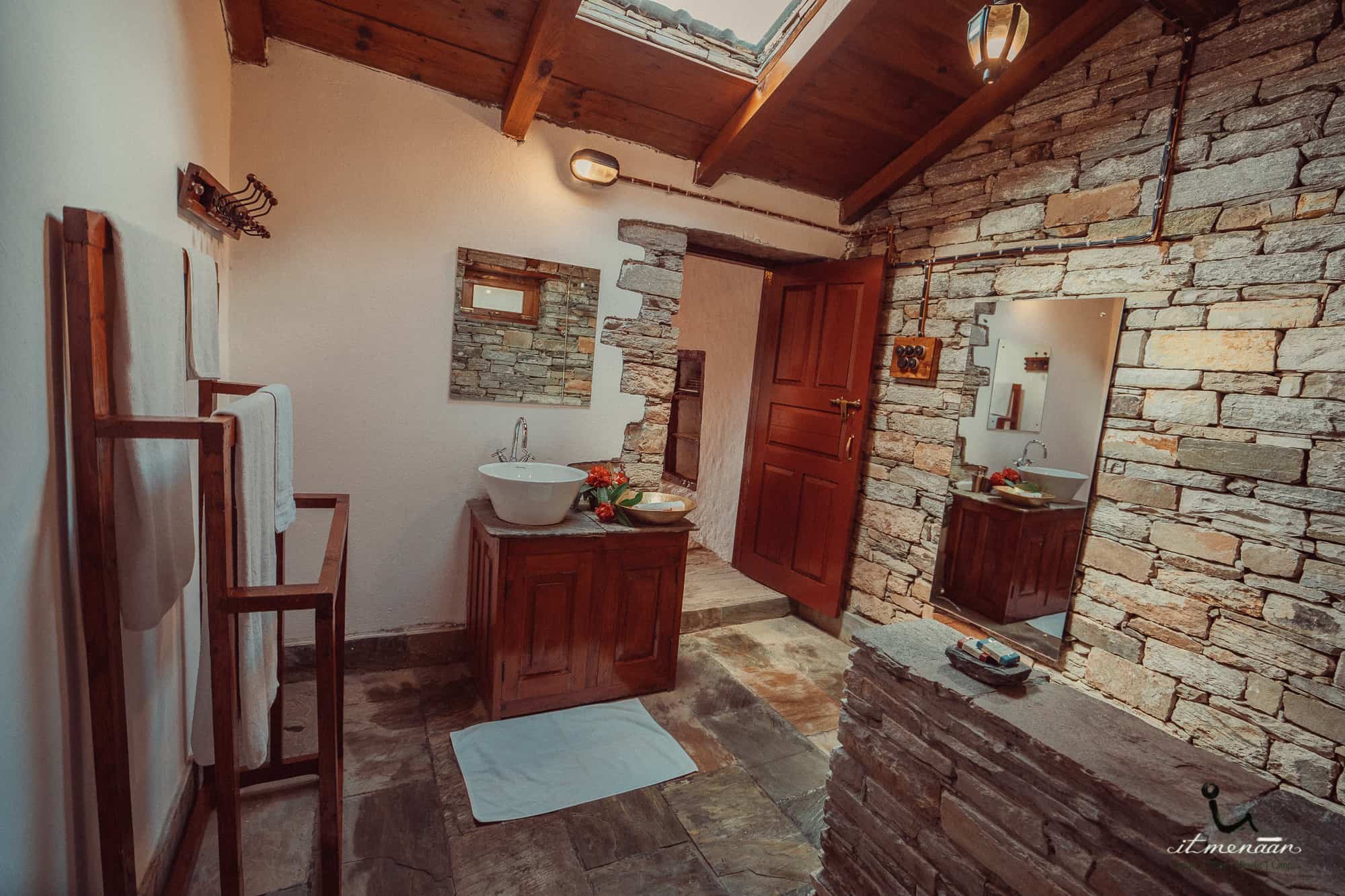 The Kafal room is the middle room of the main structure. The room is designed in a way to give you a sense of going back in time to old-Himalayan village days.
Adults: Up to 2 adults
View: Mountain View
No of rooms: 01

Beds

: Double bed
Best for: Group/Family
Oak rooms are located at either end of the main structure. The rooms have been painstakingly restored from a traditional 100-year-old Kumaoni stone cottage.
Adults: Up to 4 adults
View: Mountain View
No of rooms: 02

Beds

: Double bed
Best for: Group/Family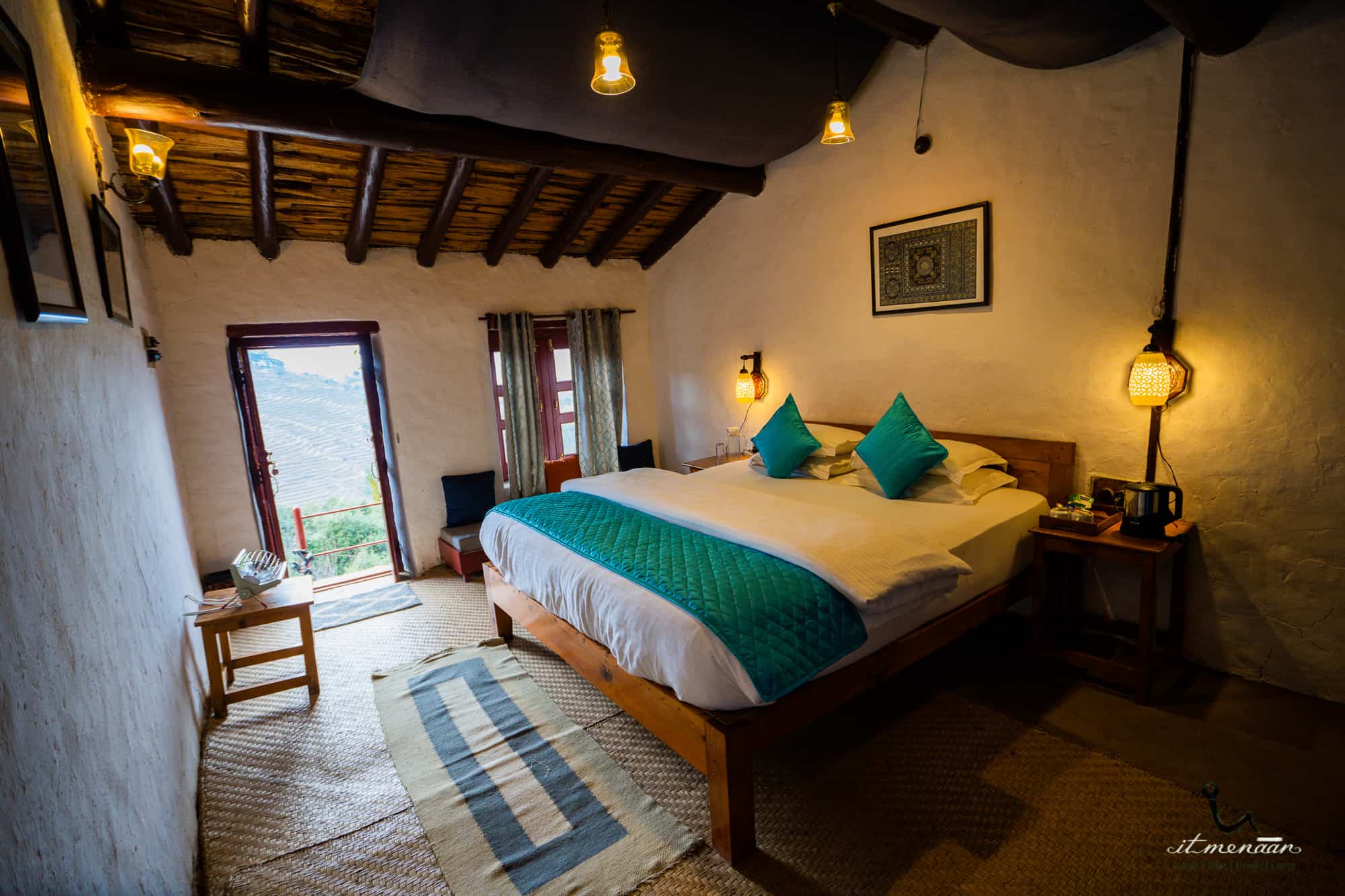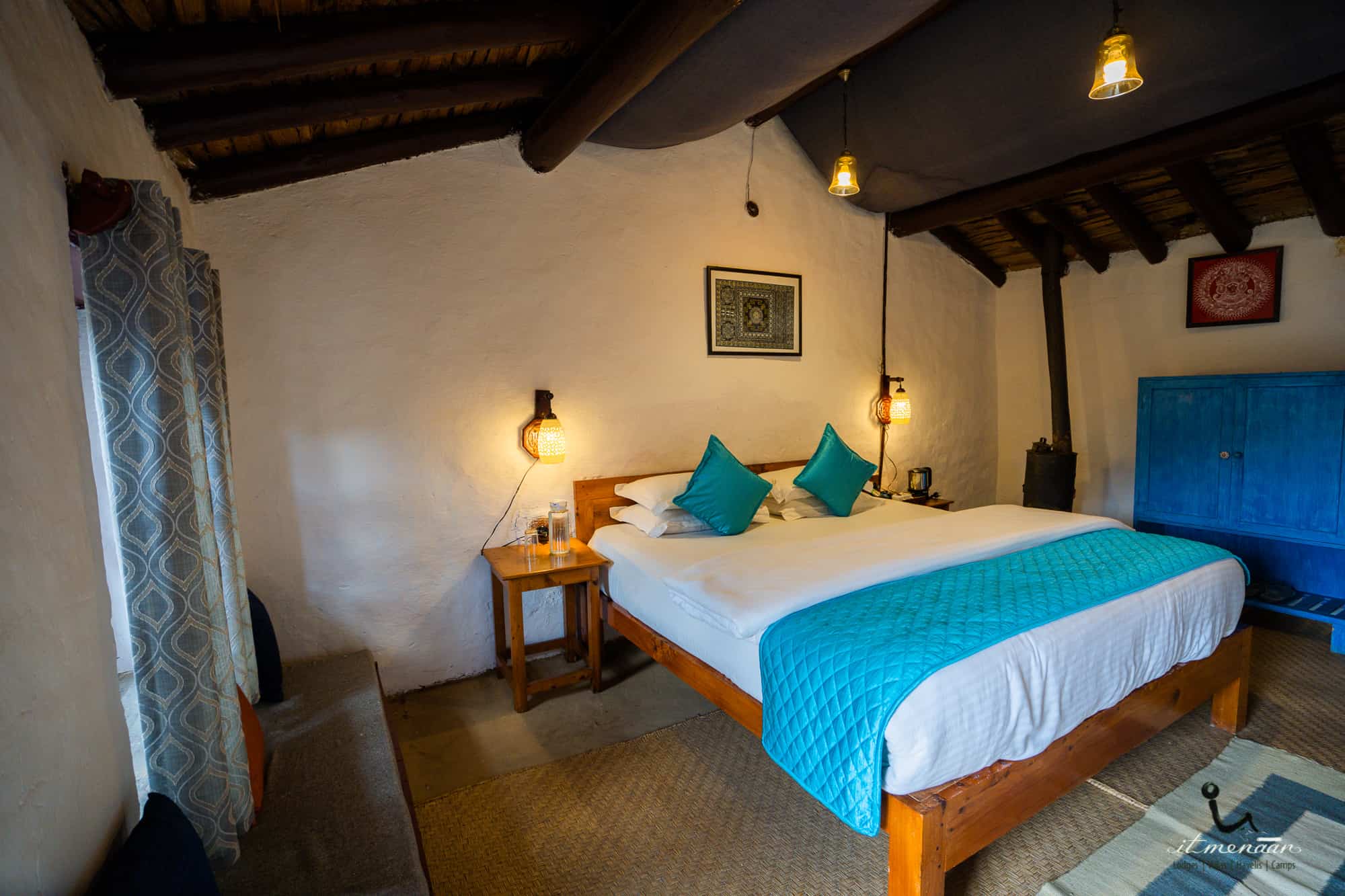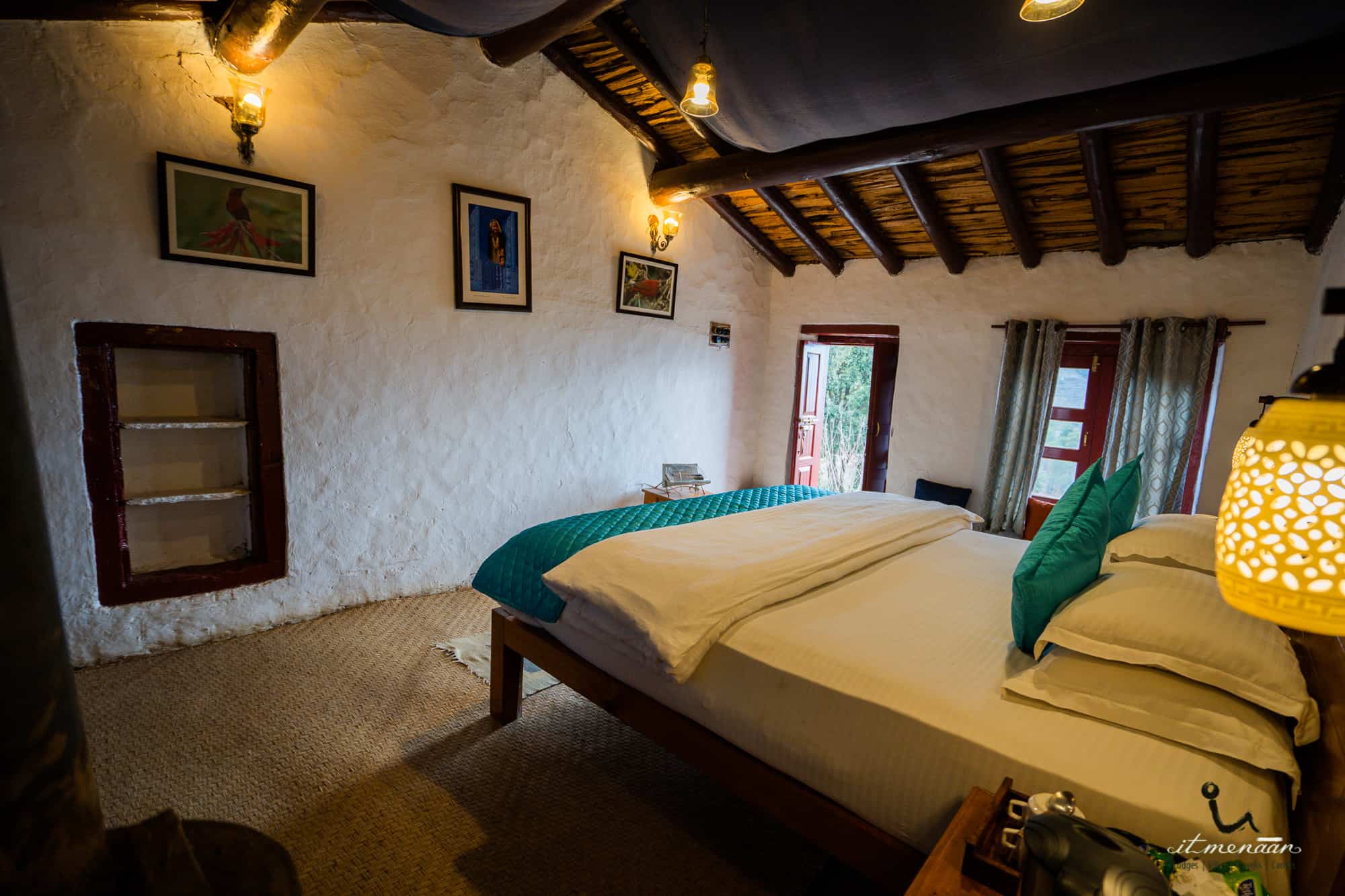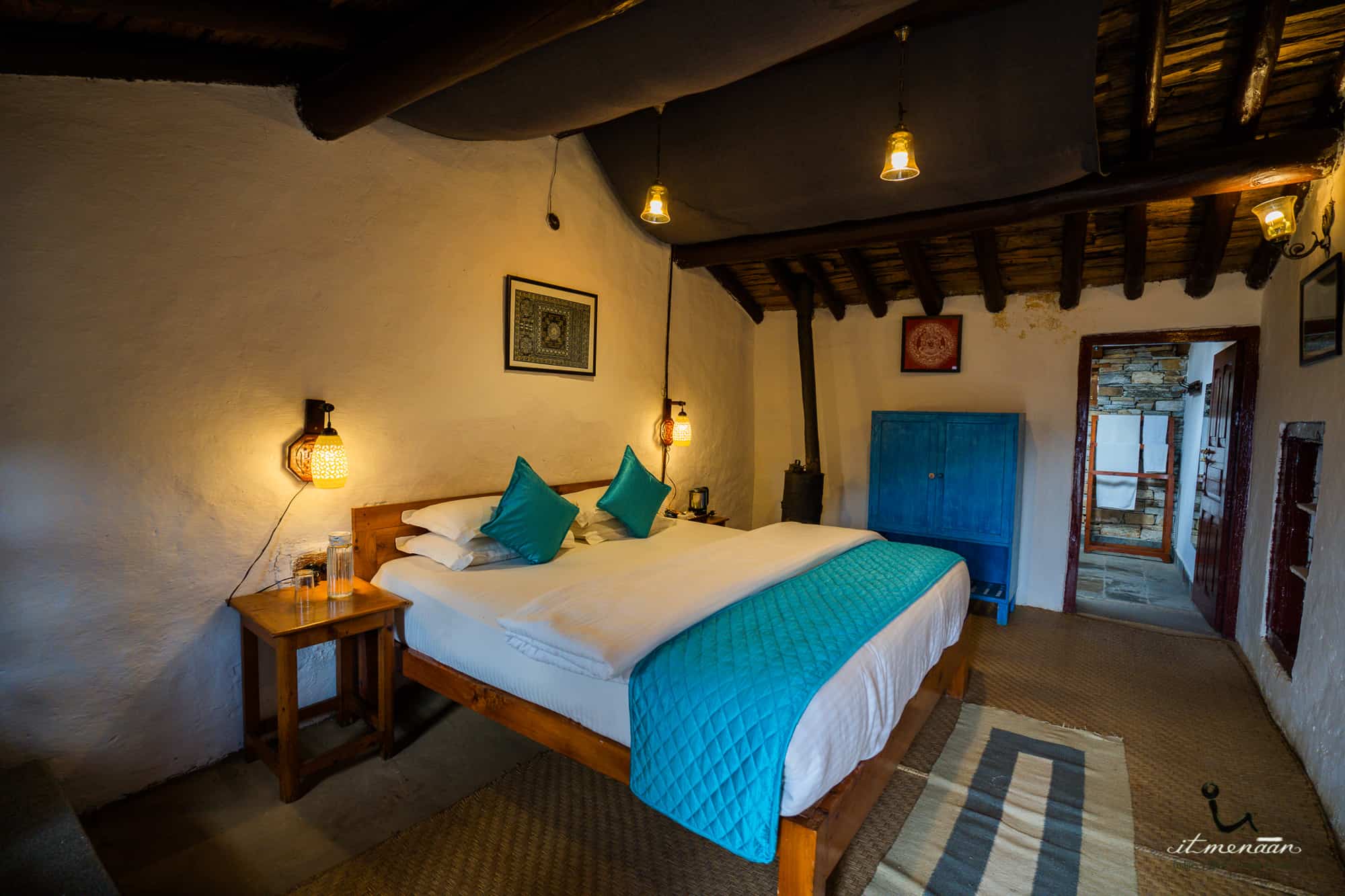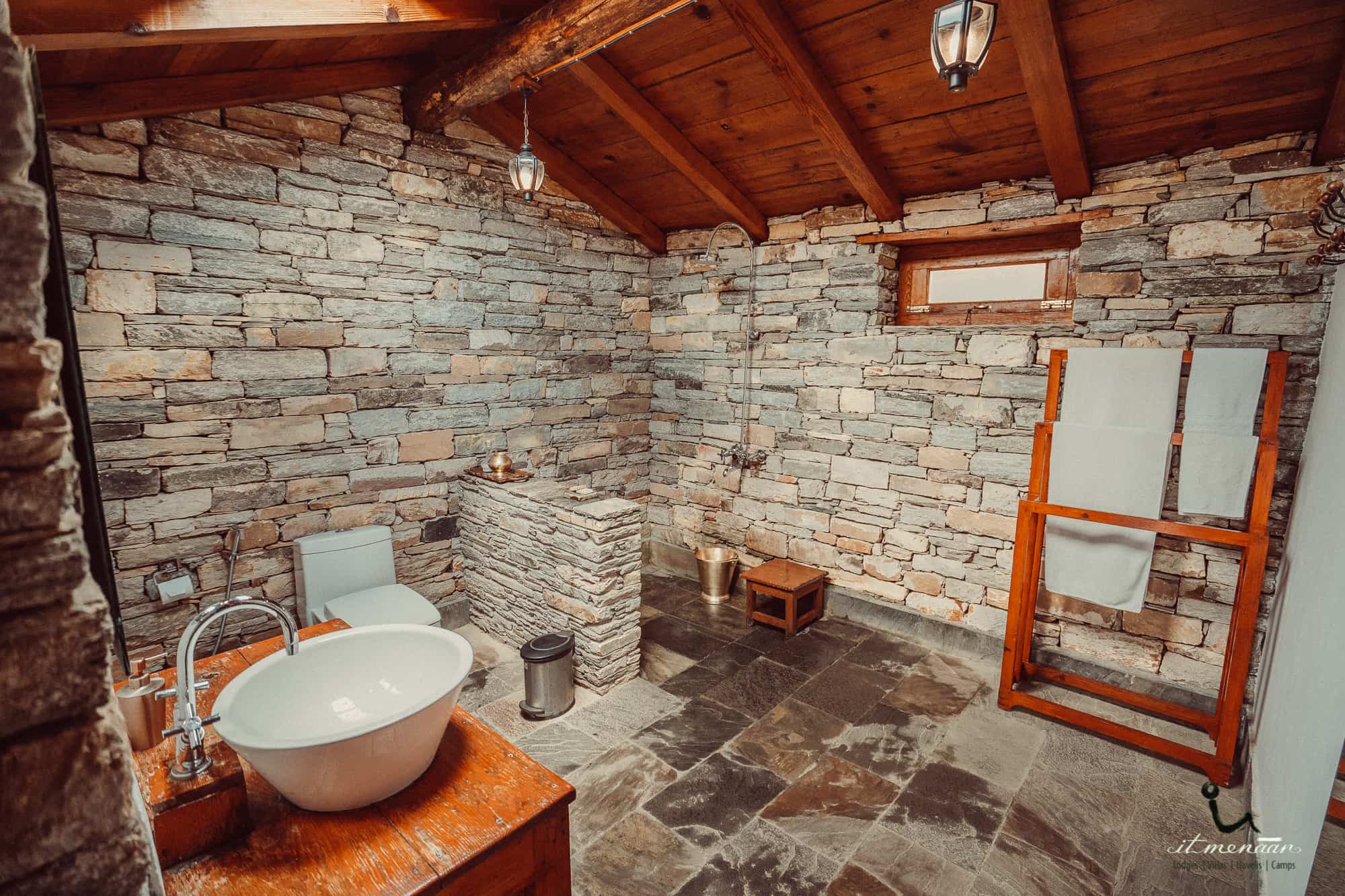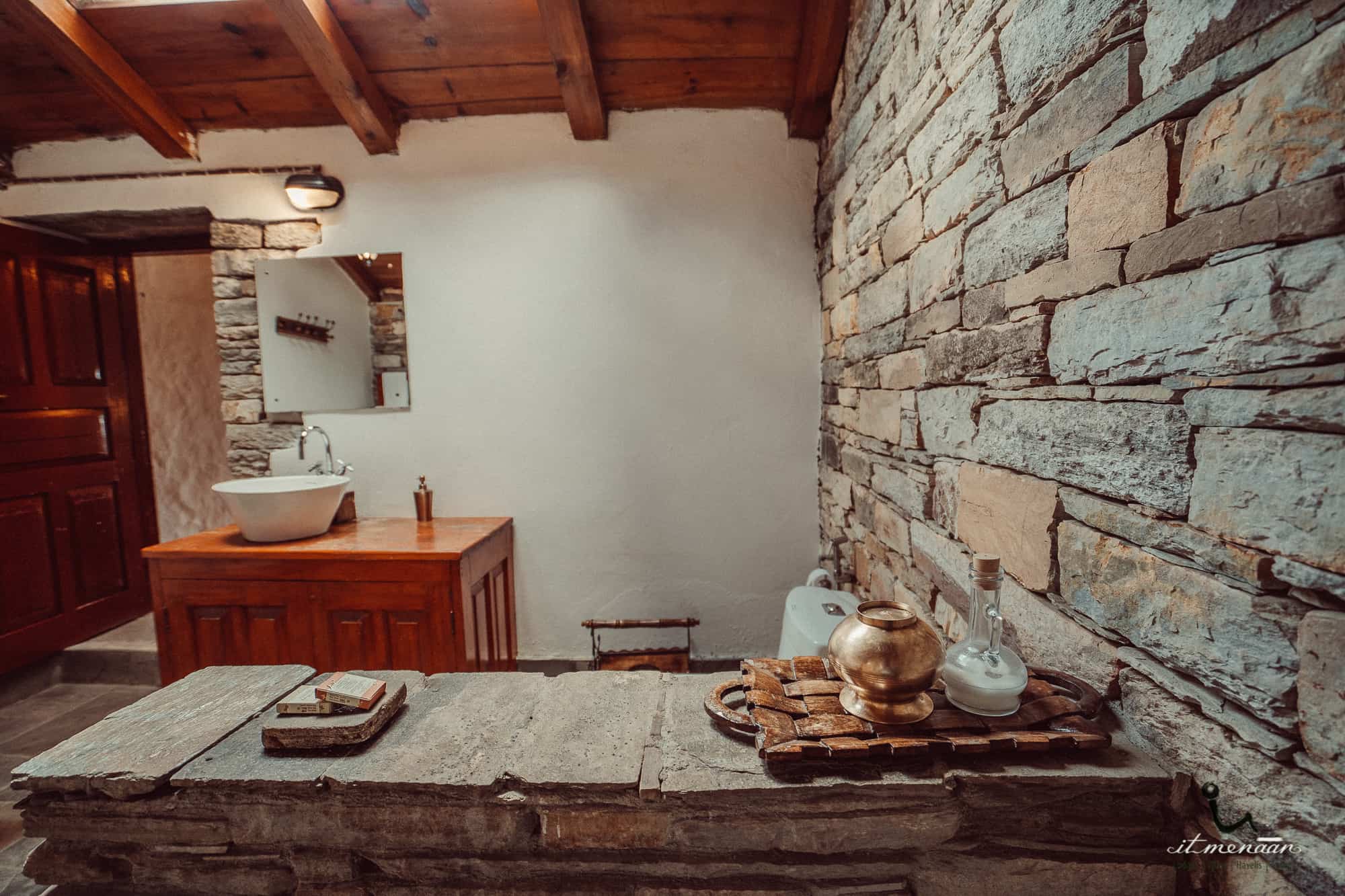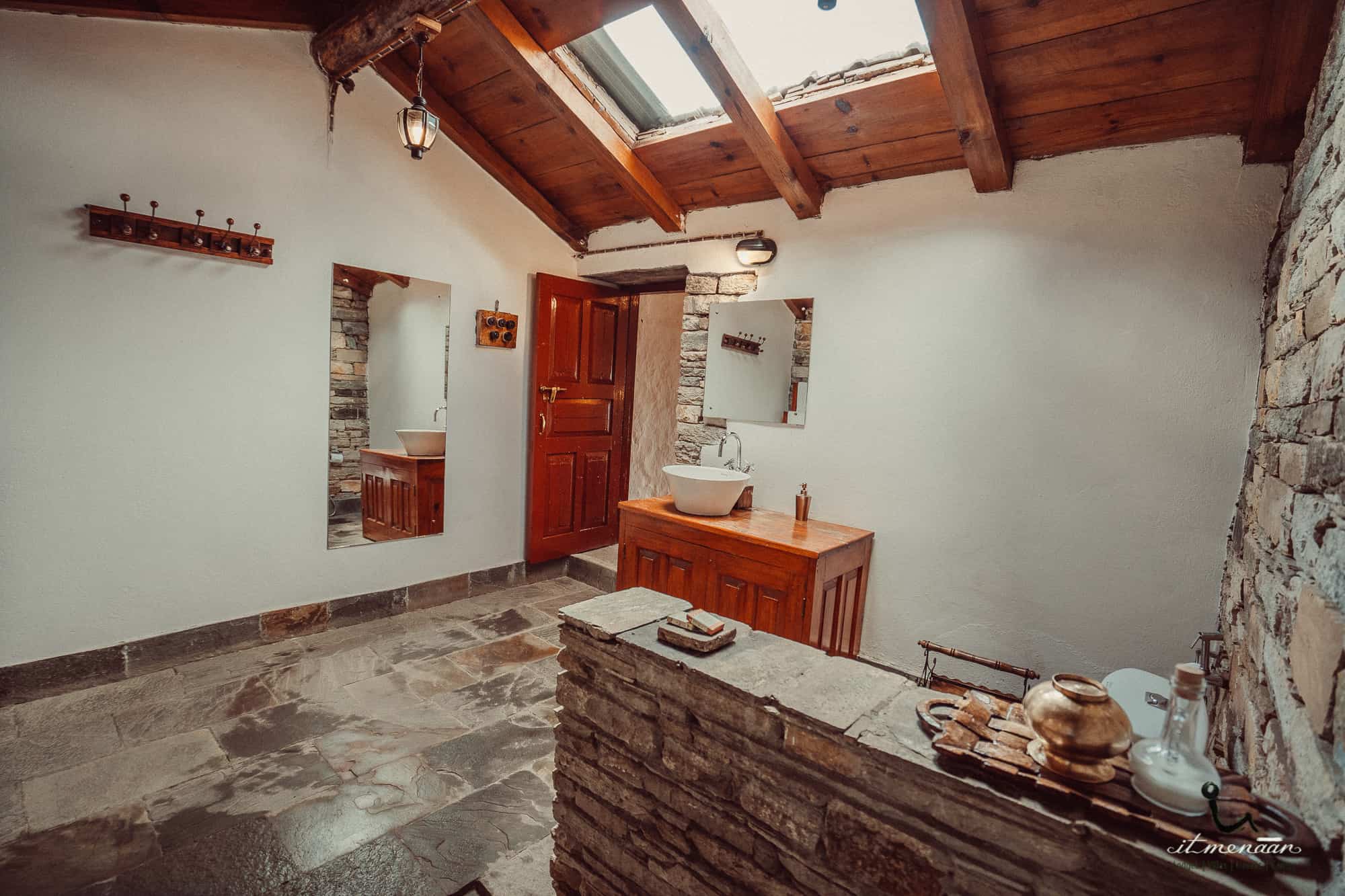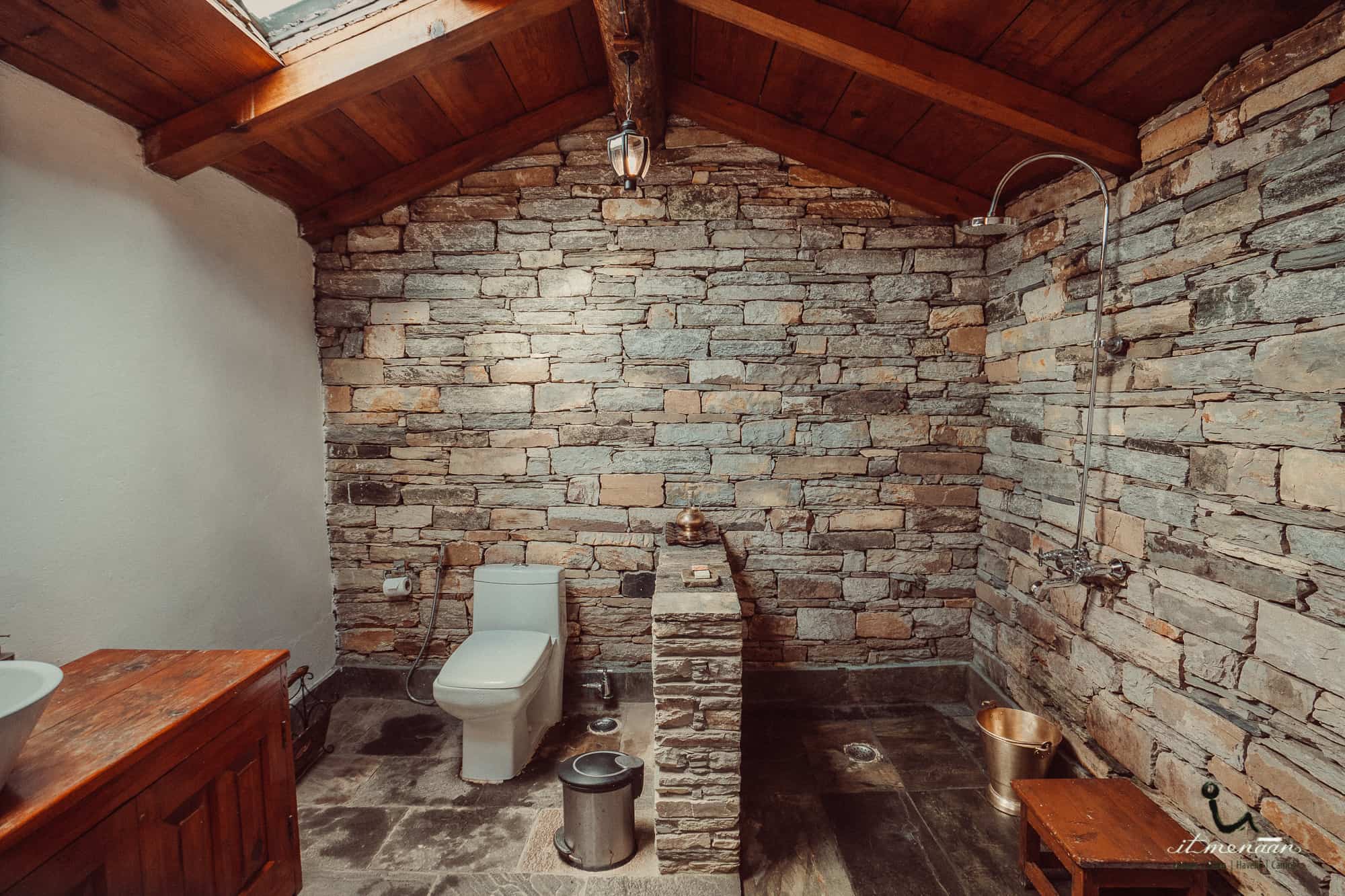 At Itmenaan Estate, you are served delicious and well-thought-out recipes that range from traditional Kumaoni, and regular North Indian, to dishes from the Western world.
The main lounge at the Estate is centrally located and consists of a cozy dining area with a few books to keep company. A perfect place to just laze around or read a book or just relax with family and friends.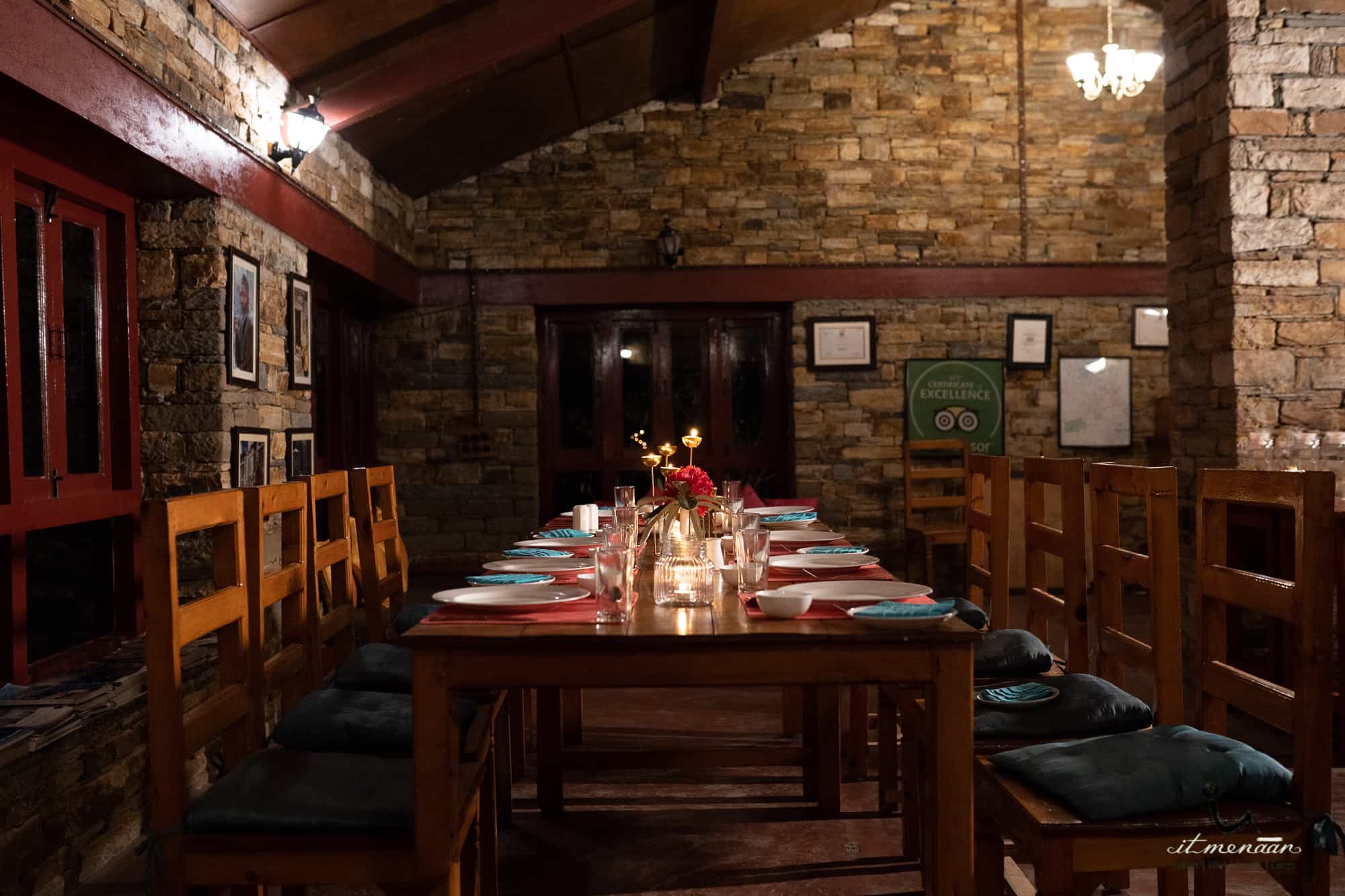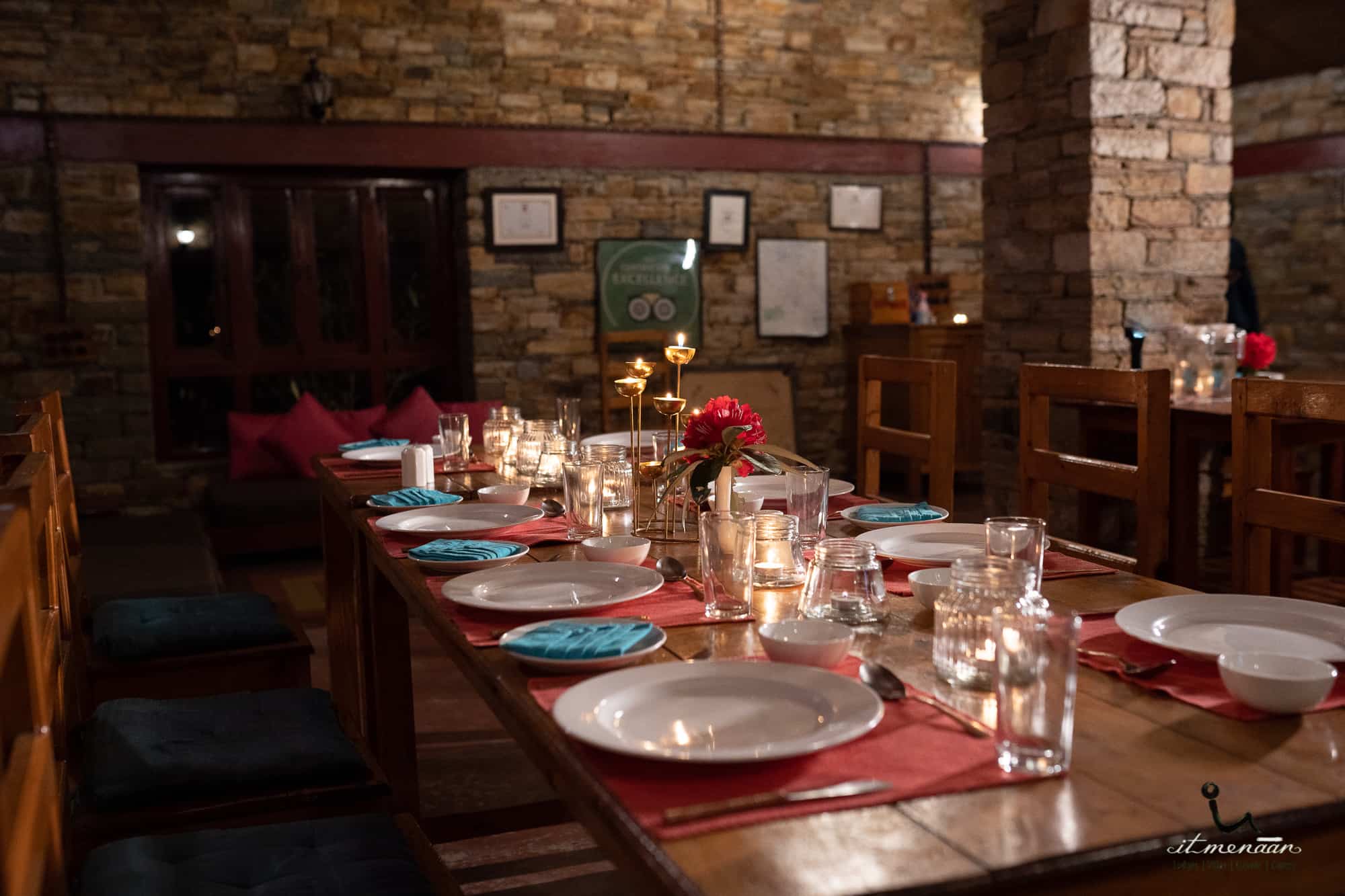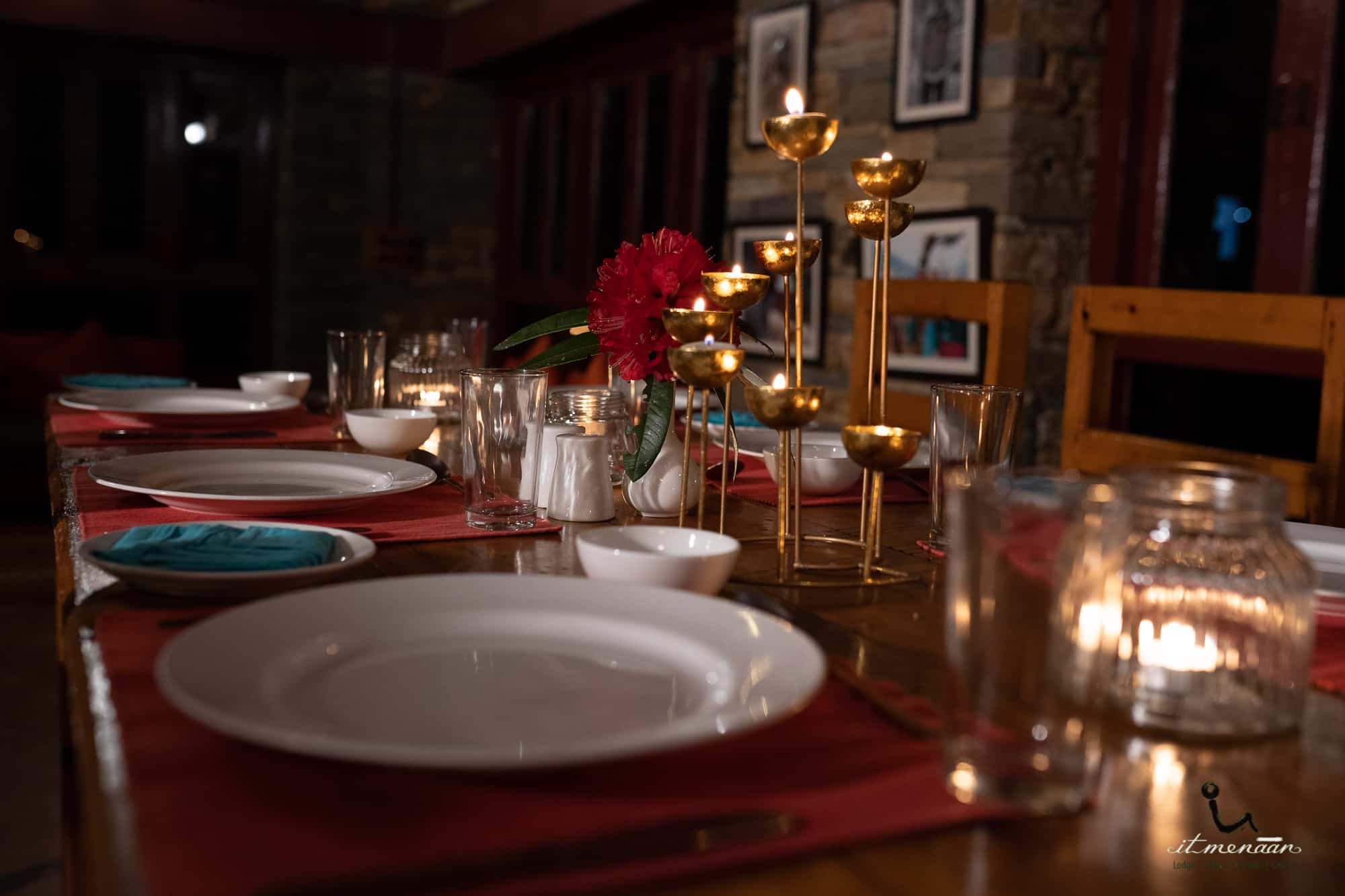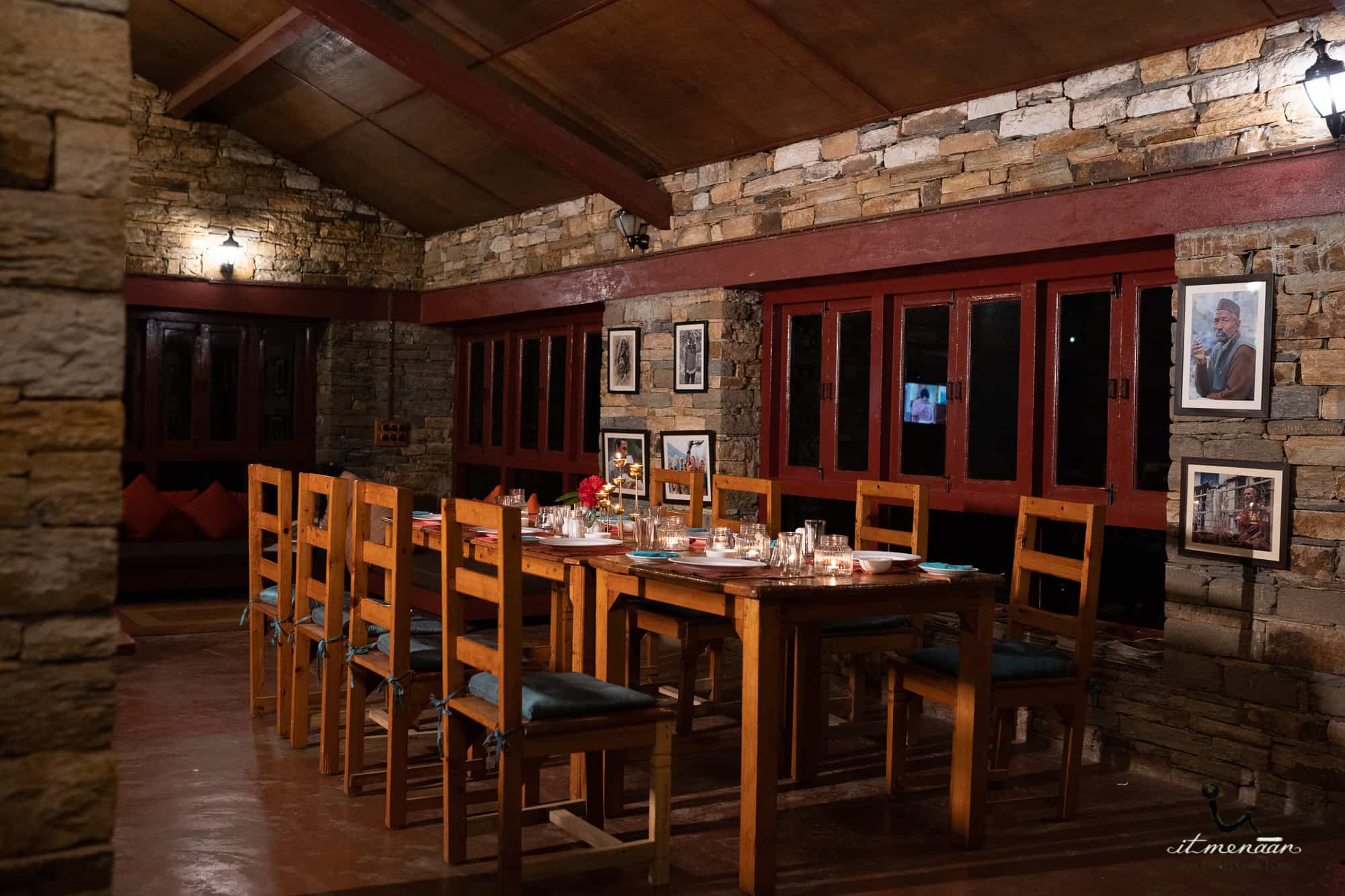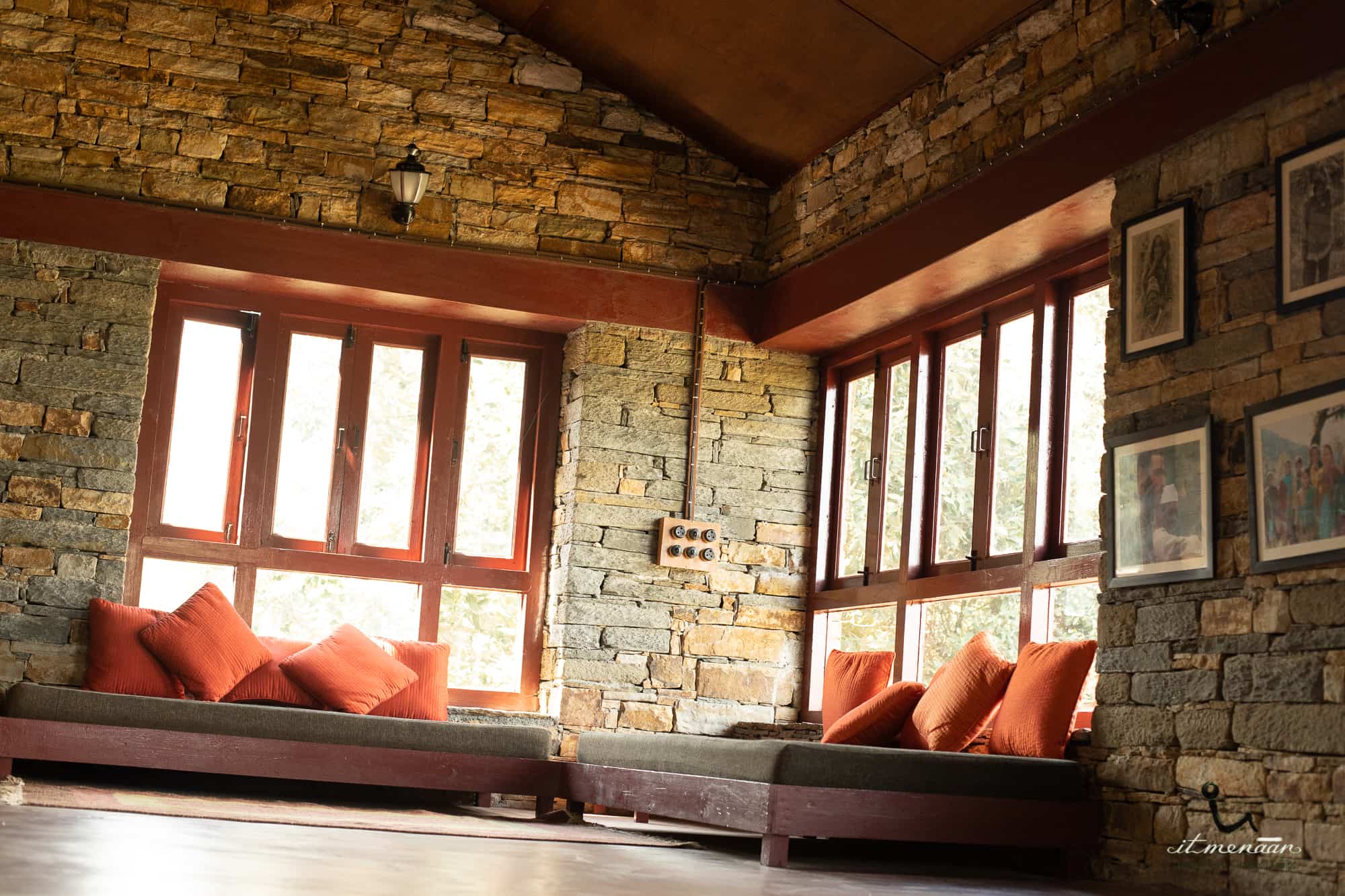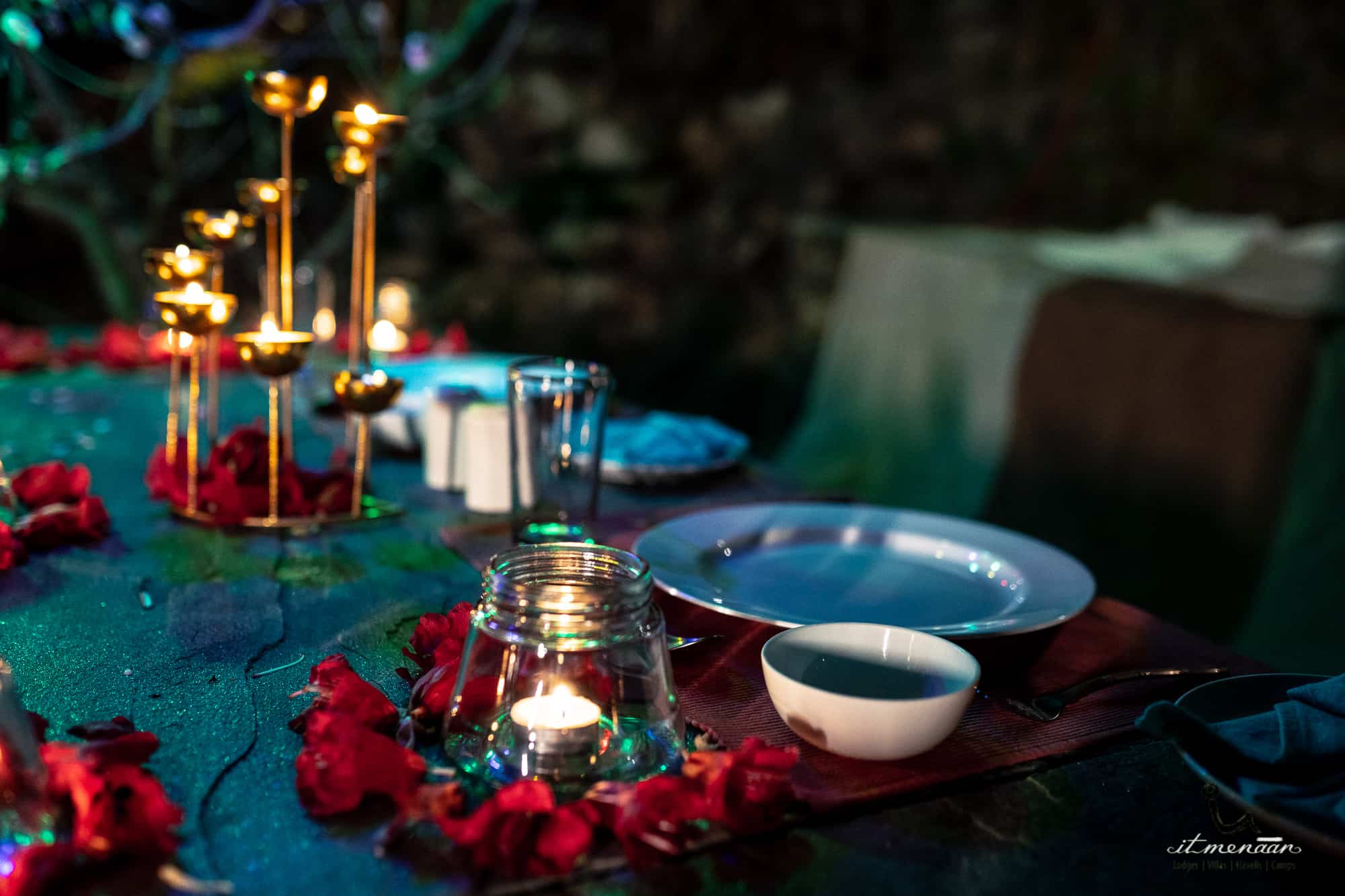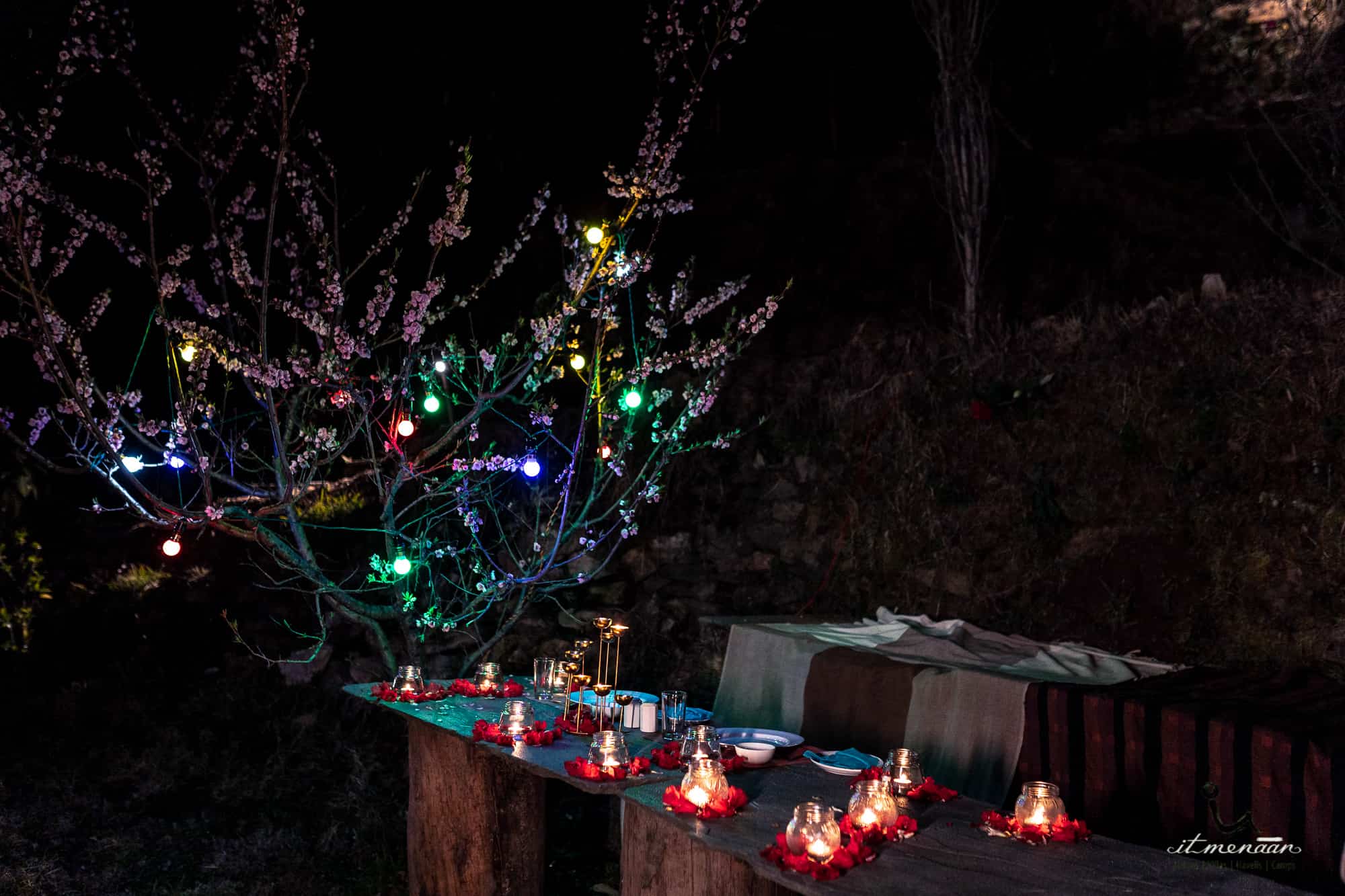 In and around the house are abundant places for you to unwind and relax – the courtyard overlooking the mountains and verdant valleys.
Take any night package, all meals including refreshment drinks like tea and coffee too are provided. Meals can either be pure-veg or non-veg as per your choice.
We are proud to say that we love pets and you are most welcome to bring your pet along with you. Be it a dog or a cat, they are going to have a splendid time here.
A word from previous adventurers


The majestic view of Himalaya especially the peaks (Nand kot and Nand khat) from rooms was so mesmerizing. Without doubt one of the favourite Estate, I stayed during my time in Uttarakhand! Upon arrival we were warmly welcomed by the staff and manager. The staff was extremely friendly, the restaurant very flexible (appreciate this!) and the restaurant supervisor deserves a special thanks. We had two great evenings here, which obviously also added up to the experience. The majestic view of Himalaya especially the peaks (Nand kot and Nand khat) from rooms was so mesmerizing. The second day we did a village trekking which was guided by Amit, who works as a manager in the hotel as well. Amit is such a warm personality, highly motivated and enthusiast person I have ever seen. I truly enjoyed walking the three of us through the village. The scenery was beautiful, and it was a relieve to walk in such a quiet and peaceful environment. Note, this is not a 4/5-star hotel or so, but the atmosphere is so special that it really felt like home to me. All respect for the manager who does a great job here, a true sample of excellent hospitality! Staying in Itminan Estate is such a divine experience that can only be sensed, words are too small to describe. The sky, adorned with stars and sun The world, full of so many lives Within this glorious vast expanse Here I am, with a place to be, a role to play I am amazed and wondering, I see my song find itself here… ∼ Ravindra Nath Tagore


Heavenly It is the most amazing experience we ever had. This place is extremely beautiful, quite and located in kumaon himalayas. The property, food and hospitality were just astonishing. The himalayas view from the window is simply awesome. The food has variety and each and everything was finger licking. Property manager Amit took very good care and attended to every request. What differentiate Itmenaan from others is the genuine care and attention of each staff member, their hospitality was beyond words. Totally, calm and quite with best experience away from the daily hustle of life. If you want to relax and rejuvenate in nature's lap, this is the place.

Beyond perfect! The most perfect experience & the most perfect hospitality you can imagine! The place is beautiful beyond words & so is the small lovely hamlet it's situated in .. Away from all commercialisation! It's ok definitely-recommended list! But just ensure people traveling are fit enough to do the trek to the estate and back.. Senior citizens & kids not recommended for this place.


Itmenaan truly! We stayed at Itmenaan Estate late last year and have been meaning to review them since then. It was certainly a good experience at Itmenaan! The property, food and hospitality were on point and the vibe of the place is very nice. We really appreciated the cleanliness and hygiene of the place in particular. I have visited many hill properties and Itmenaan will always stand out and stay a good memory.

Itmenaan hi Itmenaan Stayed at this place for four nights in the first week of July. We were a large group (with ages ranging from 3 to 50 years) and had taken all the five rooms that are available here.If you are a single family with kids the take the Deodhar cottage as it has a separate sitting room where the kids can play and relax. As the name suggests there is a lot of peace an quiet here, the views are simply amazing and so is the food. The staff is very courteous and attentive especially Bhawna who made our stay very memorable. My little four year old fell in love with her dog Shintu and still remembers him even today. The rooms are neat and clean and are a bit on the rustic side as is expected at places like these. There are a lot of places to trek nearby provided you are reasonably fit. Even if you're not trekking you can just relax at the property like a lot of people in our group did. The only thing that is there at this property is that you have to trek down a steep mountain path around 750 metres while coming to and going from the property . While the staff carries all your luggage you still have to be reasonably fit to do it as i have mentioned earlier. But having said that we had a lot of fun doing it and all our group including the kids were able o do it in 30 - 40 minutes. All in all I would definitely love to visit this place again and would recommend this property to everyone who wants a little peace ,quiet and also a little adventure along with fabulous views and excellent food.


Vignesh Venugopal
2021-06-10
Excellent Property The property is very secluded and placed with a spectacular view. You get to choose your all 3 meals with a decent spread and options; you will be served a homely and tasty food. If you have come to relax, you can just roam around the property and chill at multiple sit-out areas; but if you want to explore the mountains there are multiple trails with streams and water falls on it's way. Very caring staffs with great attitude. Currently the approach road to the property is under construction and you should take the vehicle arranged by the property to reach from the town. You will be given a safe parking space in the town.


Serene views We had chosen to stay at Itmenaan Estate for five nights but ended up staying at Fredy's - their other property in the mountains - on the first night since our arrival from Delhi was delayed. Amit and Bhavana made fantastic efforts to ensure our trip was comfortable. The staff is very friendly and helped us navigate the steep terrain during our approach and departure from the site, and even during the trek to a waterfall. Overall, I would definitely recommend this place if you're looking to get away from the city and all the noise that comes with it. It's quite a drive from Delhi - but totally worth it!
Enjoy wonderful experiences around Itmenaan Estate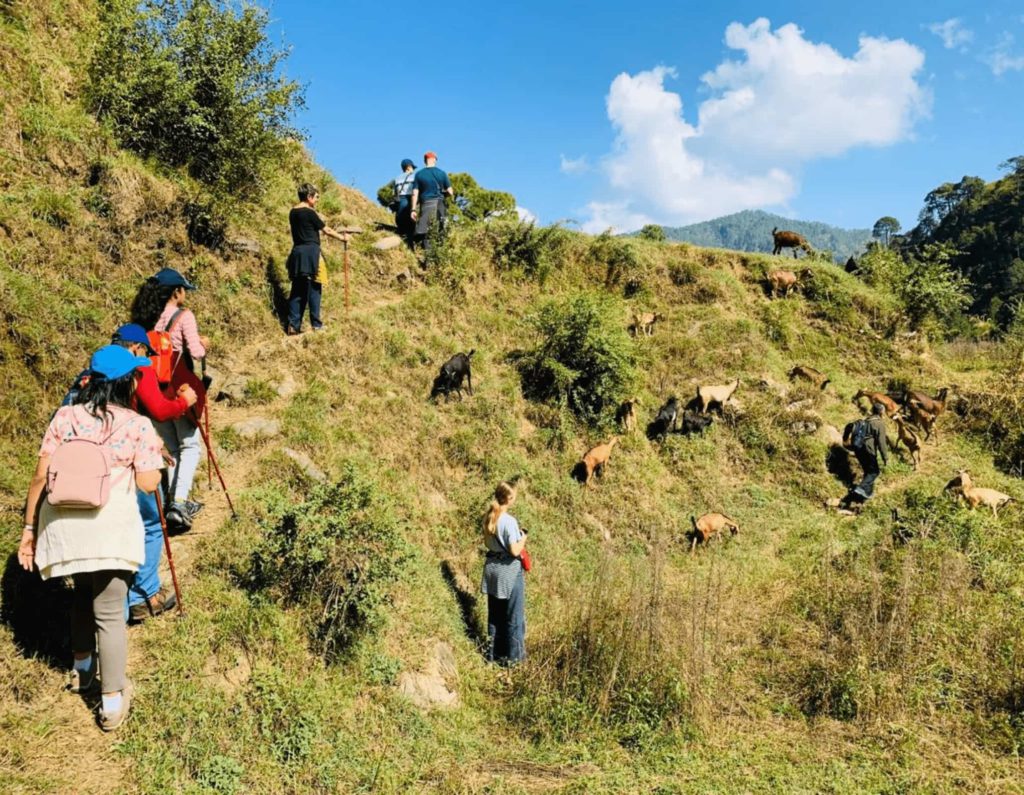 Adventurers seeking thrill and wanting to explore can go hiking. The route is moderately difficult, and everywhere you look is stunning greenery.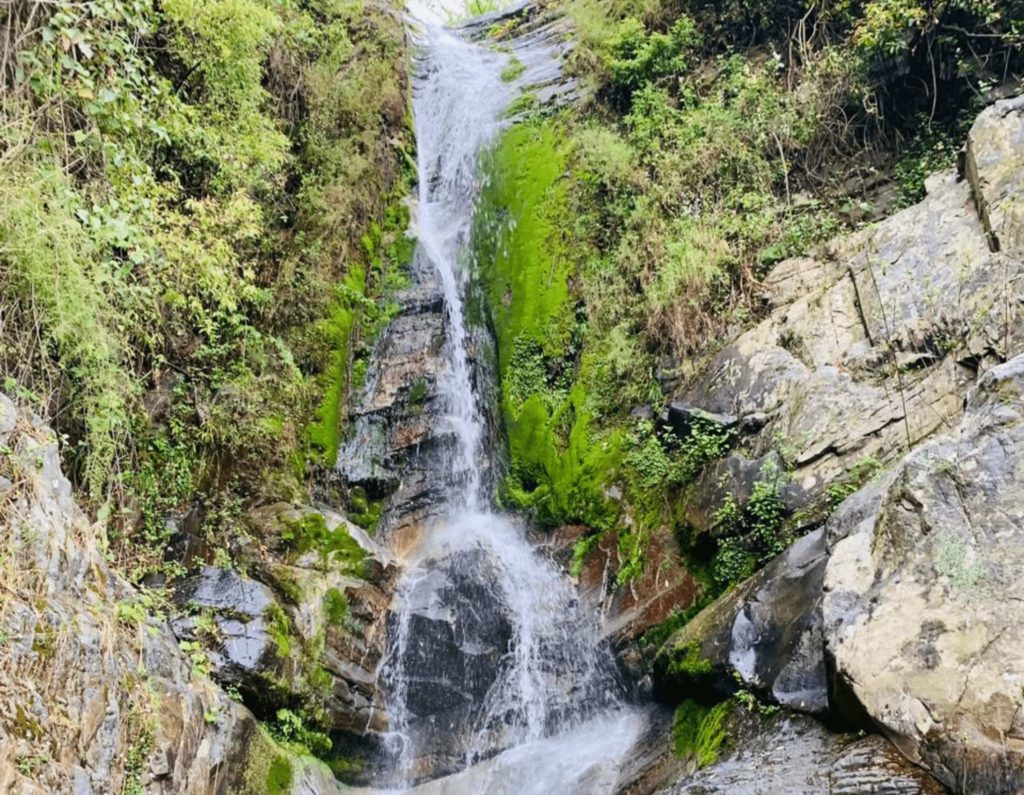 Visiting the small private perennial natural spring nearby can be a way to spend your day off. The freshwater gushing down is a spectacular scenery.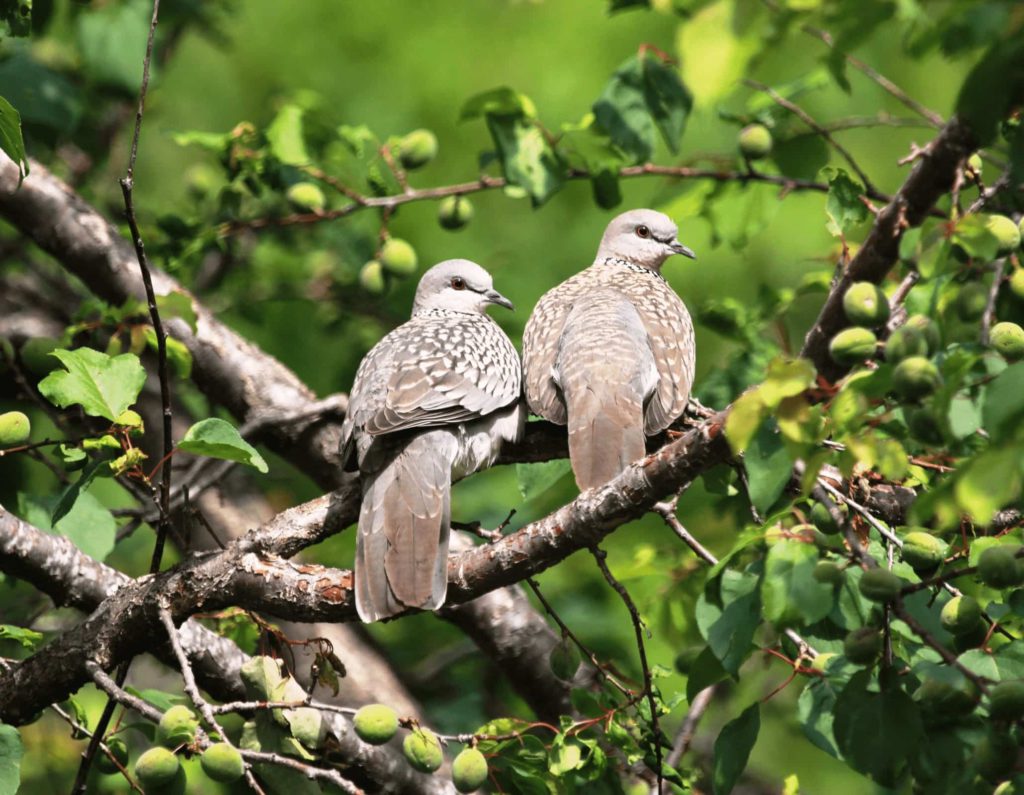 At Itmenaan Estate, you can constantly hear the lovely beautiful birds chirping and singing. This Kumaon region is home to over 500 bird species.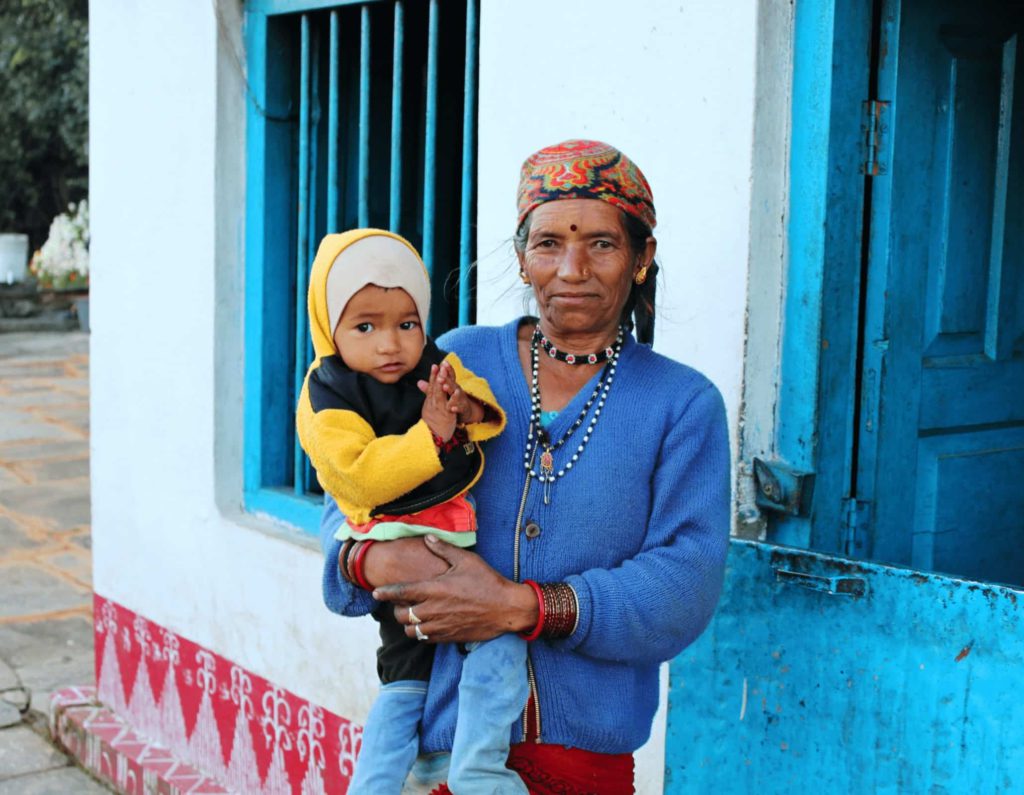 You get to see a glimpse
of people living in Himalayan villages. The unspoiled remote villages enable you to experience
rural India from close quarters.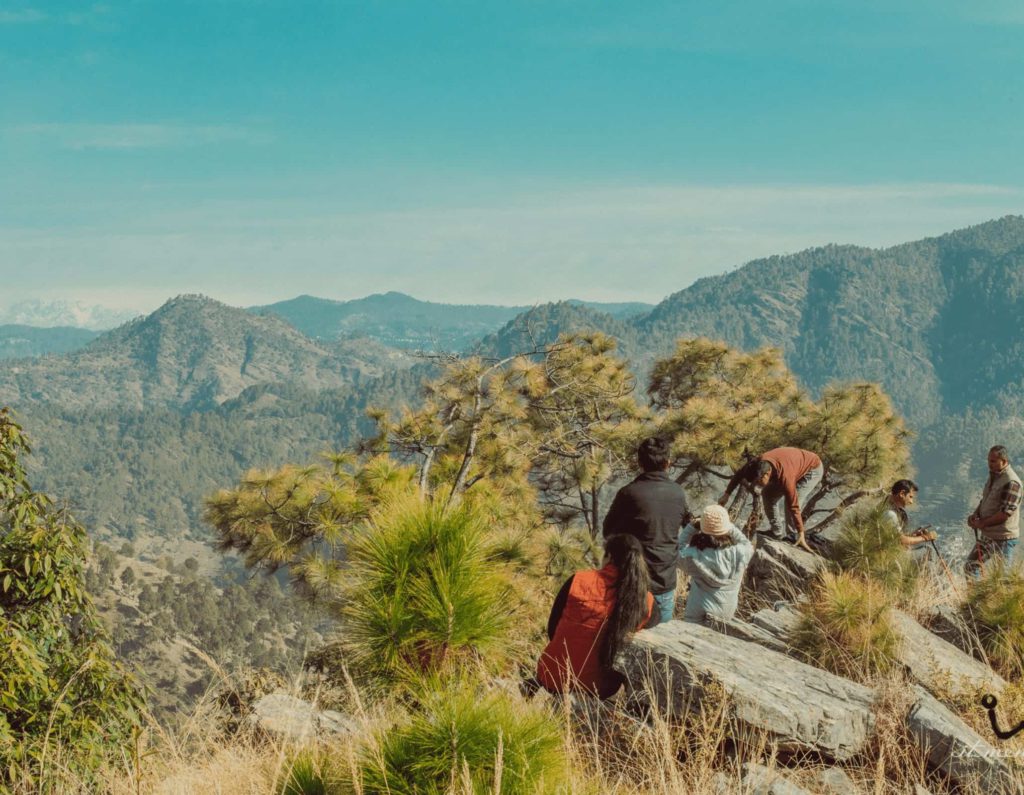 Admire the mesmerizing valleys and Himalayan peaks, enjoy the warmth of the bonfire, and gaze at the countless stars in the nighttime.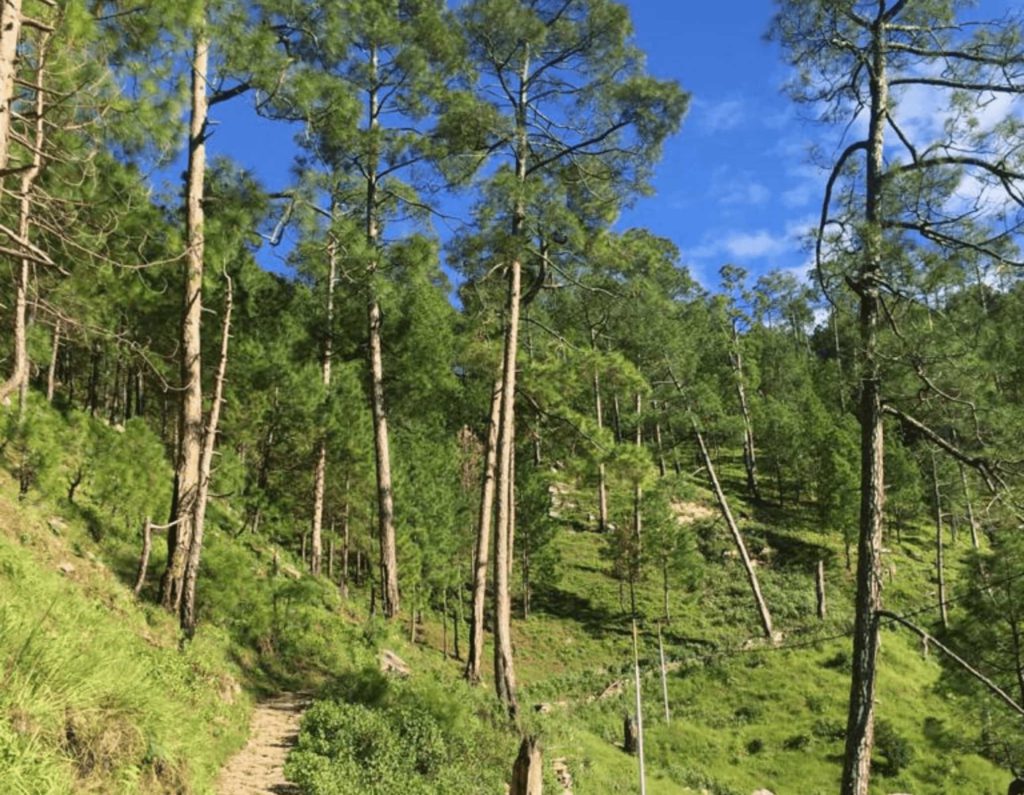 Our walks are accompanied by a walking guide, who will share the local knowledge with you and will assist in mingling with the communities.