At Itmenaan resort in Binsar you may choose to just 'do nothing' Laze around or read a book
1. Enjoy the warmth of campfire
2. Gaze at the countless stars in night time sky
3. Admire mesmerising valleys and snow clad peaks
For those who are a little more adventurous, there are a number of activities on offer to keep your busy:
1. Partake in farming and gardening within Itmenaan Estate
2.Walk to nearby villages to share tea with locals
3. Hike to the highest point for enchanting views
4. Roam the beautiful oak and rhododendron forests
On any of the longer walks you will be accompanied by one of our guides who will share his knowledge about the region and help you connect with the local people.
Excursions around the estate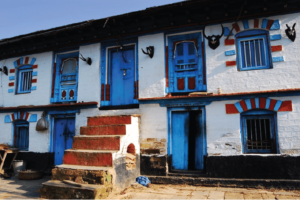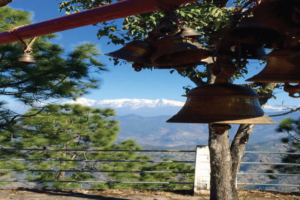 Binsar: Around an hour and a half's drive from the resort is the beautiful Binsar wildlife santuary. Day visits to Binsar can be organised.
Jageshwar: A 45-minutes drive from the estate takes you to Jageshwar Temples. The drive is through the omnipresent pines, oaks and rhododendrons and the moment you reach in the vicinity of the temples, you enter the amazing world of deodar trees. Jageshwar comprises a group of about 124 stone temples dating between the 9th and 13th century AD. Jageshwar is believed to be the site of one of the twelve 'Jyotirlings' and hence occupies a prominent position on Hindu pilgrimage.
Chitai Temple: An hour's drive from the estate is another famous temple of the region, the Chitai Temple dedicated to Golu Devta, who is considered to be the God of Justice. As one approaches the temple, the first thing that strikes you is hundreds of bells hanging at the entrance. People come to the temple to make a wish to Golu Devta; those who are not able to personally visit the temple, write letters to Him seeking justice. Once a wish is fulfilled people come and hang a brass bell on any of the temple walls, and hence the sea of bells all over the temple.
Almora: Almora is located at a distance of about one-and-a-half hour from the estate. The cobbled stone streets of Almora bazaar are a delight to walk through. Houses and shops align the narrow streets that bustle with activity throughout the day. The traditional architecture is very much in evidence here as one spots carved doors and windows.
Cycling
Magnificent views of the Himalayan peaks, amazing setting of the small villages dotted on the hillsides and charming local culture – all provide the perfect blend for cycling. Depi Chaudhry, who has written guidebooks on cycling and trekking and is perhaps the best known name in cycling in India has described the cycling route from Bhimtal to Itmenaan Estate (87 KM) as one of the 20 best cycling routes in entire India. You may read details of this route here: 20 Best Cycling Rides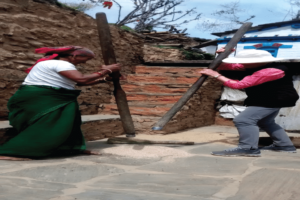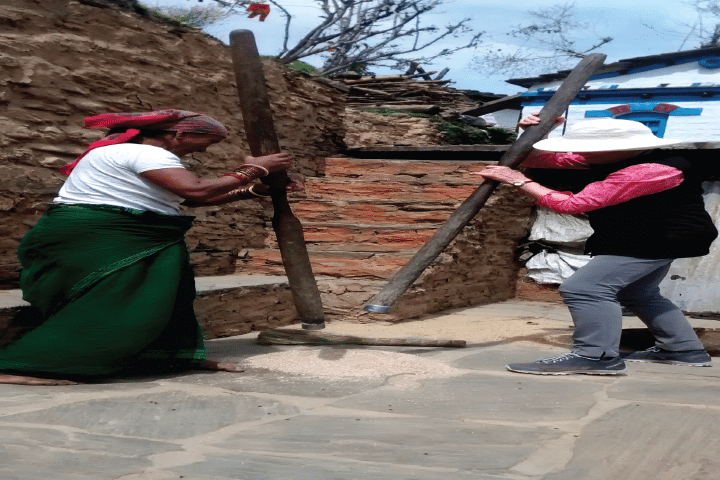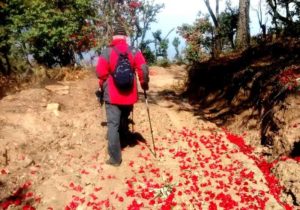 OAK & RHODODENDRON FORESTS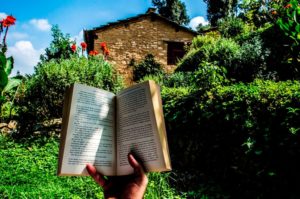 To offer discerning travellers a touch and feel of rural life, we have devised a village walk and stay programme in these unspoilt villages of Kumaon Himalayas. Charmingly, you stay in village houses that have been touched up to provide very comfortable lodging without compromising on the authenticity. You may choose to stay-put at a village house and explore the area. Or, walks can also be organised that take you from one village to another and each night is spent in a different village house. Know more about Itmenaan Walks…